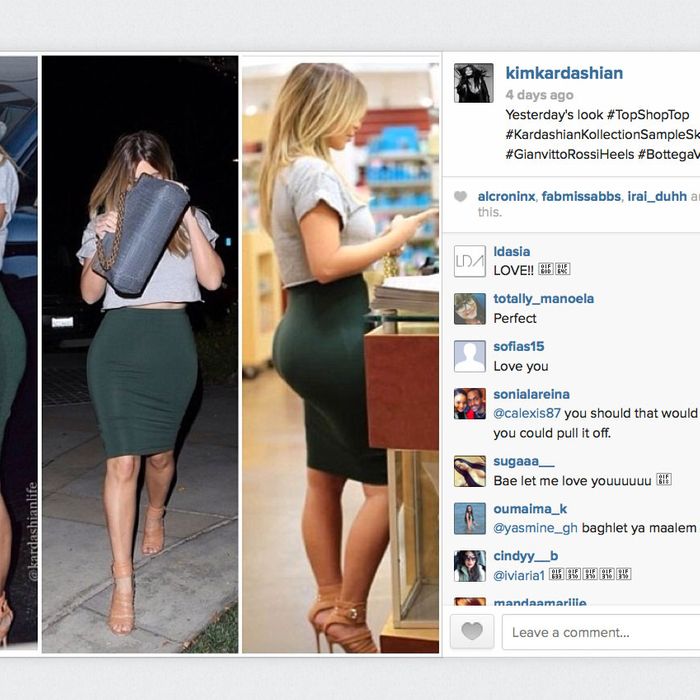 Photo: kimkardashian/Instagram.com
The conventional wisdom on the relationship between Instagram and professional paparazzi is that the former is a threat to the latter. Celebrities weaken paparazzi scoops by posting new hairdos and babies before outside photographers catch a glimpse, while amateur onlookers' cellphone snaps sometimes earn wider distribution than those shot with a telephoto lens. But the new method hasn't extinguished the old, so much as remixed it. Paparazzi photos routinely appear among the selfies and behind-the-scenes pics in celebrities' social-media feeds. And though the pictures are valuable and the field is competitive, the photo agencies seem to be OK with the high-profile thievery. It's just another part of their symbiotic relationships with the stars.
"We consider it a compliment when a celebrity Instagrams one of our photos," says Kelly Davis, managing editor of celebrity photo agency X-17, the source of two Kardashian family pictures that appeared in Kim's Instagram last week. The images were taken with a telephoto zoom, likely from a distant hillside. "Is it copyright infringement? Yes. Could we flag the images on social media and have them removed? Yes. But we haven't done that thus far — we don't want to go after the people we photograph."
A few days later, Kim posted a paparazzi triptych documenting "yesterday's look." The images came from celebrity photo agency Splash News, which trailed Kim (and her midriff) on a shopping trip in Calabasas. The photos show Kim scurrying through a dark parking lot. In one image, she hides her face behind her purse.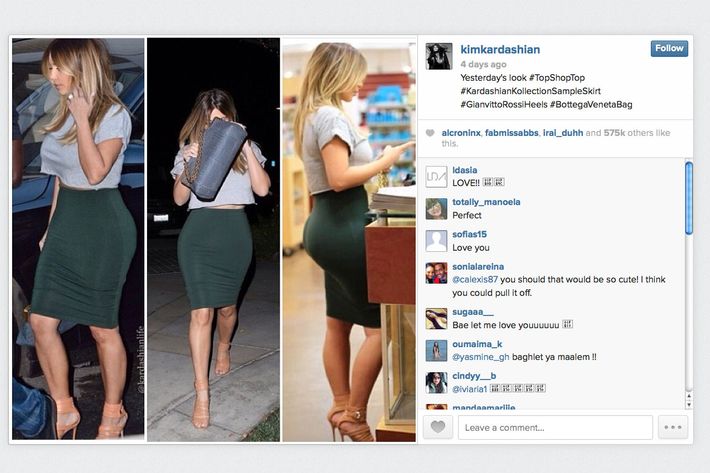 It's no secret that those who court paparazzi coverage often perform the rituals of paparazzi evasion anyway, out of some combination of modesty, fakery, and habit. (Maybe Kim thinks hiding-behind-purse is her best angle?) But actually publishing the pictures takes the love-hate celebrity-paparazzi relationship to a new level of ambivalence. Kim treats some photos like cherished family portraits; a street photo of her walking arm-in-arm with Kanye West receives one of Instagram's romantically blurry filters.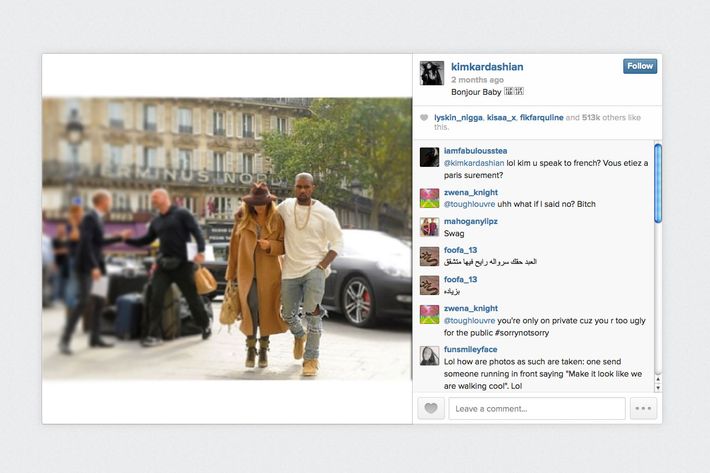 Last month, Khloe Kardashian Instagrammed an X-17 photo that shows her flipping off the paparazzi. Davis says Khloe did not pay to license the photograph, but X-17 doesn't mind. "Other than giving us the middle finger that night, which she seemed to be doing jokingly, Khloe's been pretty nice to us and we love the Kardashians," Davis continues. "We make money off them; I'm not going to bite the hands that feed us. We try to be friendly with the stars we photograph and most of them actually get along quite well with the shooters — both sides realize it's a symbiotic relationship." Nonetheless, because Khloe's X-17 Instagram occurred the day after paparazzi trailed her to a seemingly tense reunion with estranged husband Lamar Odom, many interpreted it as display of hostility. "The fact that Kardashian published the pic shows she means business," Gossip Cop wrote.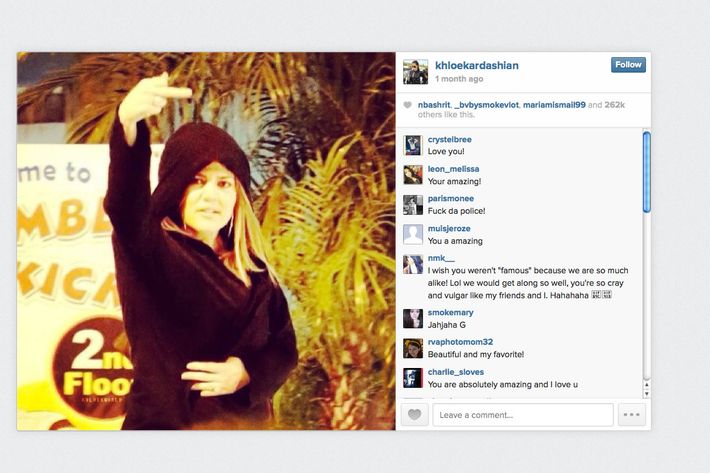 When Rihanna posted a paparazzi image taken through her hotel window, she made her hostility clear. "I hate these niggaz more than the Nazi," she wrote next to an image of herself in a towel, seemingly unaware of the zoom-lens invasion. Distributing the picture with her own commentary was a form of protest. (She also self-paparazzied to prove a point during a passive-aggressive Twitter feud, one rival claims.)
Though Kim Kardashian looks tortured in some of her self-distributed paparazzi pictures, when she posts them, she seems motivated only by the simple desire to share pictures where she looks cute. She lauds her makeup artists and thanks designers for dressing her. She promotes Kardashian- and Kanye-made products. Sometimes she photographs parts of the same "look" in the privacy of her home, then re-posts the outfit when the high-gloss professional photos come through. Because why strain to get the lighting right, when a team of professionals is on hand to document everything for you? Kim works with the paparazzi the way a personal style blogger might rely on a photographer friend or boyfriend to photograph their outfits. It's even possible that she licenses some photographs; Kim's pap-stagrams often appear simultaneously on her blog in the Celebuzz network, a celebrity-news company that likely has contracts with some photo agencies. (Celebuzz and Splash News did not comment on Kim's paparazzi habits.)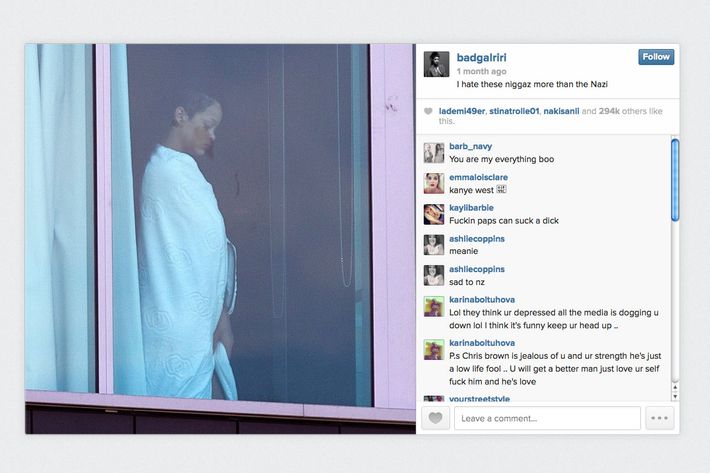 Or maybe celebrities browse paparazzi and red-carpet pictures the way the rest of us browse our friends' party albums on Facebook — cringing sometimes, but also marveling at those pictures that capture us from flattering angles. Occasionally, we might right-click other people's pictures and save them for personal use, particularly if they capture a moment we failed to photograph ourselves. Even selfie addicts have been known to fall back on paparazzi and red-carpet images on occasion. Miley Cyrus sometimes uses red-carpet pictures for clear fashion shots. Lady Gaga posts photo-agency images when they show her with favorable people (like Jeff Koons and Marina Abramović) or catch full-body images of clothing she wants to discuss ("Thank you SAINT LAURENT … I wasn't quite prepared for single release! MERCI!"). One of her early hits was paparazzi-inspired stalker love anthem, after all. The relationship is complicated.