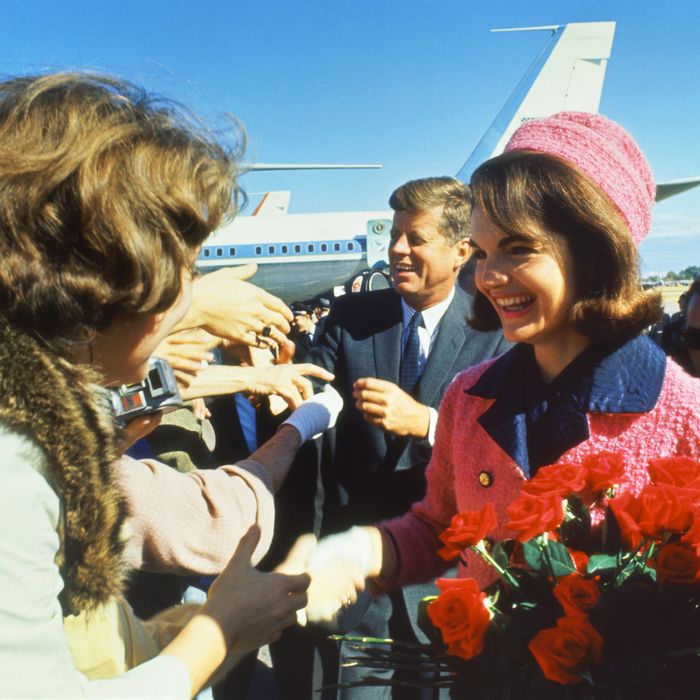 Photo: Art Rickerby/Time & Life Pictures via Getty Images
Cathy Horyn has a fascinating piece in the New York Times about the famous pink suit Jackie Kennedy wore the day JFK was assassinated, and how it eventually made its way to the National Archives — where it remains, almost entirely unseen.
The suit went from being an inconsequential copy of a Chanel classic (one the first lady had worn at least six other times) to one of the most recognizable garments in history. Horyn writes:
If there is a single item that captures both the shame and the violence that erupted that day, and the glamour and artifice that preceded it, it is Jackie Kennedy's bloodstained pink suit, a tantalizing window on fame and fashion, her allure and her steely resolve, the things we know about her and the things we never quite will.
A year after the shooting, the suit was sent to the National Archives, where it remains in a vault today, "still stained, the stockings blood-powdered and folded in a white towel … essentially unchanged from the day of the assassination." It arrived with an unsigned note on Jackie's mother's stationery; in 2003, Caroline Kennedy established a deed of gift keeping the suit out of public view until 2103.
The story is part tragedy, part mystery, and part Sleeping Beauty-type enchantment — who knew historical clothing preservation made for such morbidly fascinating fairy tales?