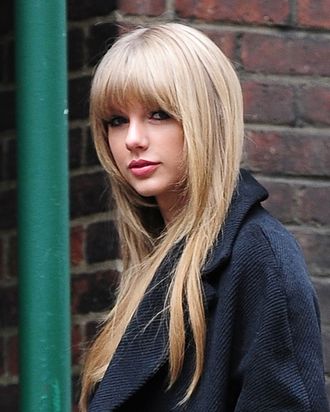 Photo: Alo Ceballos/Getty Images
Taylor Swift is shopping for houses in London, in the same neighborhood as her ex-boyfriend, Harry Styles. Swift spent a few days in England looking at houses (worth $11 million to $13 million) in the St. John's Wood and Regents Park areas of London, which is where Styles has lived since the summer of 2012. The Taylor Swift school of real-estate-hunting is seemingly boyfriend-centric: Last year, she was rumored to be looking for houses in Hyannis Port, by then-boyfriend Conor Kennedy.
Swift's house-hunting near Styles is not necessarily crazy behavior, though; the same neighborhood is also home to lots of other famous people, like Gwyneth Paltrow and Daniel Craig. It's just a lovely area, generally popular among fashionable, wealthy people.
Perhaps everyone was wrong to think of Swift as serially dating. Perhaps she's actually searching for the perfect neighborhood. This is her life journey. It is not to find a perfect mate, or an ideal boyfriend, or a one true love, but rather, a home. A quiet community that loves her for who she is. A neighborhood where everything just seems right, finally. This movie fades out with Swift sipping tea by a fireplace, hanging a picture in a frame in a breakfast nook, gazing across a balcony at the city a night, and waving hello to her local florist, laughing heartily all the while as she and her next-door neighbor accidentally swap newspapers again. Someday, Taylor.