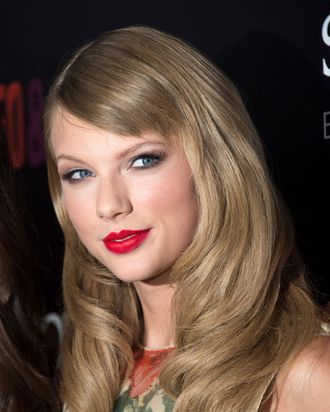 Photo: Amanda Edwards/Getty Images
A few months ago, much fuss was made over Taylor Swift's "haircut." It was a "haircut," because Swift cut off a total of three to four inches. A pixie cut it was not. But thanks to a new friendship with Karlie Kloss, Swift could become as brave with her hair as she is at outing her ex-boyfriends.
Backstage at the Victoria's Secret Fashion Show on Wednesday, Kloss was doing her thing: dramatically blowing kisses, taking selfies on other people's phones, making cartoon noises at Cara Delevingne, and subtly encouraging Swift to take a walk on the barer side of things. She told The Cut: "I met Taylor Swift last night and she said, 'Ohhh, I want to cut my hair. Karlie, if you see me in a few months with that haircut, know it's because of you.'"
Unlike last year, when Kloss's surprise haircut caused a last-minute rush for extensions ("I caused quite the ruckus and freaked a few people out"), Kloss is going extension-free this year."I get to wear my hair," she said. "My hair — on the catwalk."
And it has made an impact. Besides Karlie Kut now being part of the beauty lexicon, it's the first step at cementing a beautiful friendship via mutual mane admiration and not because of a boy. Karatay, K-Swizzle, we're rooting for you guys.