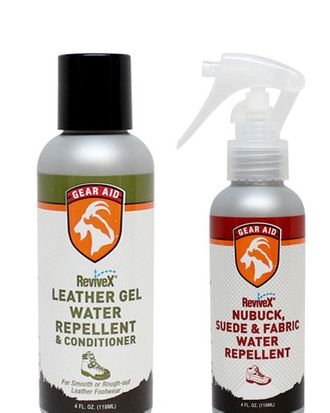 Confession: I own a pair of beige suede Uggs. They're the same ones I bought in 2003, at the height of Ugg madness, and they're worn solely after a long day spent snowboarding. Despite trudging through monstrous snow drifts for nearly a decade, they look as good as new because this time each year I am fanatical about applying repellent. After trying multiple brands, I've finally tracked down two I love: both by Gear Aid.
As a brand known for waterproofing all of your outdoors gear, the Gear Aid sprays work just as well on fancier boots. One is meant for your suede and fabric shoes, while the other restores and protects your leather ones. Make sure to have a clean surface before applying them – and, for the leather gel, spend a little extra time massaging it in — it's well worth the wait. Just remember to find a well-ventilated spot before you attack your shoes, unless you appreciate the accidental contact high.
Gear Aid ReviveX® nubuck, suede & fabric water repellent, $8 at Gear Aid; Gear Aid ReviveX® leather gel water repellent and conditioner, $8 at Gear Aid.