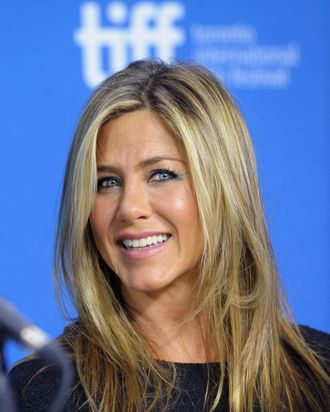 Photo: Jag Gundu/Getty Images
Day by day, strand by strand, Jennifer Aniston is intent on tearing down the pedestal of perfect hair that the press and Friends watchers have placed her on. First, she admitted that she hated the Rachel, calling it the "ugliest haircut I've ever seen." Then, the woman with the most coveted hair in the world (at least, for a very long time), reduced her hair to descriptors like "naturally wavy, frizzy, Greek hair." She's told us that she likes to go days without washing her hair. And now, the Living Proof spokesperson tells Vogue that she has "pretty nutty cowlicks" — and that her recent hair chop was inspired by someone on their staff.
What kind of universe is this? You are supposed to be doing the inspiring, Aniston! Why won't you just let us make you our hair deity? Our tress totem? Instead, Aniston reveals that a picture of Vogue contributing editor Lawren Howell's hair was the impetus for her chop.
 It was kind of spur-of-the-moment. I was flipping through the television channels and I paused it to take a picture and I sent it to Chris [McMillan, her hairstylist], and he said, 'That's [stylist] Lawren Howell from Vogue!' And then he said, 'I just cut that!' So that's it. He went way shorter than hers, but she was the inspiration.
Dragging us down further, Aniston explained to Elle UK that the reason for the cut is because her hair is mortally vulnerable, just like us, to high-heat styling and formaldehyde:
It wasn't for a role. My hair went through a phase - I did this thing called a Brazilian and my hair did not react really well to it.
Well, at least she must be immune to bad-haircut regret, right? But no:
The minute I cut my hair I want it back. Always. It's a guarantee. I'm trying really hard to love this one.
Fine, Aniston — you're just like us. You have bad hair days, you've had mullets, and your hairdresser cuts your hair when stoned. Are you happy now? If you're not willing to take the Perfect Hair mantle we've so artfully constructed for you, I guess there's always Blake Lively.