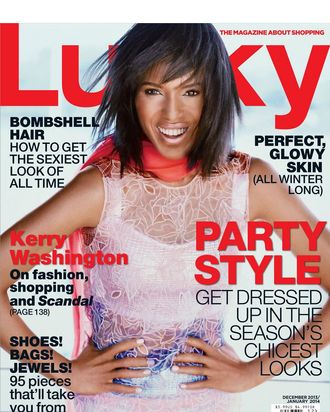 The new, revamped Lucky has been pretty fabulous so far, and Eva Chen's recent appointment of venerable stylist Carlyne Cerf de Dudzeele as fashion editor-at-large promised to bring about even more great things. But then, out came the magazine's December/January cover, and … goodness. You thought that nothing could make Kerry Washington look bad, but then you realized that with enough frosty makeup, strange lighting, and overly windblown hair, even the most gorgeous woman will look like she's lunging forward to bite you, and not in a sexy way.
Let's explore what's going on here. First, there's the awkward slouching pose, popularized by starlets trying to make their arms look skinnier on the red carpet (Kerry, you are so much better than that). Then there's the mysterious light source. She appears to be lit from below and slightly to the right, giving her face odd shadows and creating a flattened, blown-out look. The overzealous undereye concealer doesn't help matters. And as for her hair — wind machines are great, but looking like a helicopter is about to land on your head is not.
On a positive note, that sheer Dior dress is very pretty. However, that red scarf looked much better on the runway, where we could see that it matched part of the skirt. Here it resembles a Superman cape, or something to keep her head from falling off.
This cover is proof that even the most wonderful combinations — Dior, Olivia Pope, and Carlyne — can go wrong sometimes. But be honest: Will that deter you from reading about Washington's thoughts "on fashion, shopping, and Scandal"? Probably not.