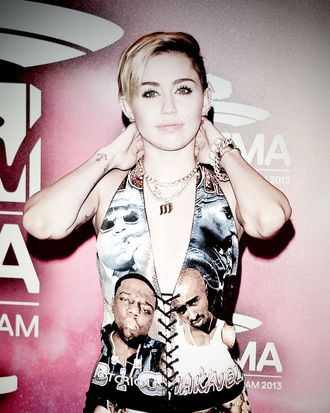 Photo: Venturelli/Getty Images
Miley Cyrus spoke to BBC's Radio 1 about her place among the women of the world. Of all the women and citizens of this great world, Miley knows exactly where she ranks:
I feel like I'm one of the biggest feminists in the world because I tell women to not be scared of anything. There's absolutely no contradiction at all between being a feminist and taking your clothes off and being comfortable about displaying your sexuality. I'm for anybody and anything, I don't care what you want to do, what you want to look like.
She also informed the public yesterday that she is a "lame," "complete hermit" who didn't really leave her room unless she was staying in a hotel in Europe. Dropping lots of honesty, this twerklet.