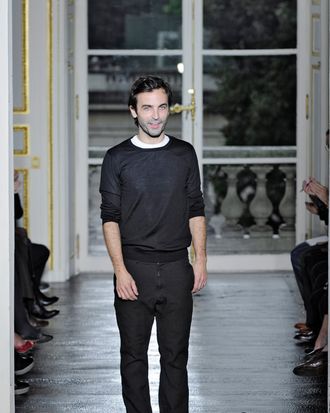 Photo: Chris Moore/Catwalking/Getty Images
Today's news that Nicolas Ghesquière will take over at Louis Vuitton is very, very, very good. The idea that, at 42, the designer was going to take time off made sense creatively — how did he never burn out? — but it was also deeply disappointing to his fans, and I am one of his fans. In a big way. To me, Ghesquière represents the best of all fashion worlds: He merges art, technology, innovation, and commercialism in a mind-bogglingly brilliant way. His clothes always look good (the first check mark for any designer), but they are much more than what one sees on the hanger.
After a fashion show, editors go on a round of "re-sees," or visits to the showroom, where the clothes hang on racks for closer looks and touches and feels. These can be pretty quick and straightforward affairs: lots of mmm-ing and murmuring of complimentary phrases like "so pretty" and "love that." But to go on a Balenciaga re-see during Ghesquière's tenure was an entirely fascinating affair — one for which I'd always allow a little extra time in my Paris schedule.
First, you'd immediately know that he had spent huge amounts of time in the Balenciaga archives, absorbing the history of the brand. All designers at big houses do this — but what Ghesquière did with the information is what makes him entirely unique. He reworked it without ever seeming costume-y or derivative, while always using the latest advances in production and technique. For a dress in his final Balenciaga collection, for example, he took a large ruffle and worked with Parisian petites mains, German textile engineers, and millions of other specialists both modern (Swiss lace dyers) and traditional (French drapers). The result was something entirely unique and beautiful that never lost sight of the commercial aspect of his endeavor: to make things that people actually want to wear. And many, many people wanted to wear (and still do want to wear) Ghesquière's Balenciaga, whether or not they realize how long he took to figure out the best means to achieve the ombre effect on the half inch of eyelash fringe on the slit of a skirt. He managed to be an artist without being obscure or irrelevant, which is no small feat in an overtly commercial medium.
Marc Jacobs is one of this generation's other great geniuses, and his work at Vuitton was brilliant, masterful. He arguably changed the landscape of the fashion world, with his artist bag collaborations and his over-the-top sets, and his creation from nothing of a whole line with an identity and a customer. What he leaves is one of the more exciting opportunities in fashion: a beloved house with a huge history, a tremendous following, and a demonstrated interest in exploring the boundaries of the luxury world. Ghesquière will have tremendous resources for continuing the work he began at Balenciaga — to further his explorations into how things get made, and to continue to merge old techniques with the new.
So, well played, Arnaults. You've landed yourselves another one. Can't wait to see what happens next.