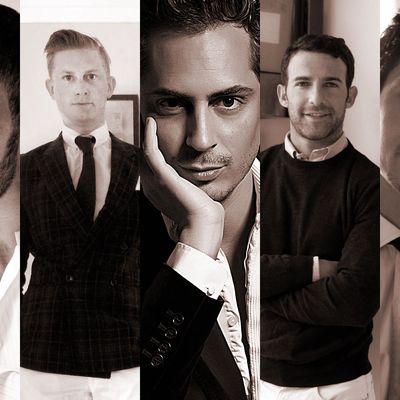 Unofficially, it appears to be Hot Men Week at the Cut. (Thanks, People magazine!) Although technically, I guess every week is Hot Men Week? But for the first time, we are having a hot men and beauty crossover, courtesy of the highly scientific, researched observation I made three weeks ago upon attending a string of scent events: There are a lot of attractive men in the perfume business.
While these men are easy on the eyes, they're also extremely talented at their craft and have better senses than a bloodhound. Read on to learn about the scents they associate with their first kisses, their scent turn-offs, and what they love about fragrances. Because you know what they say about men with big noses, right? They make great perfume.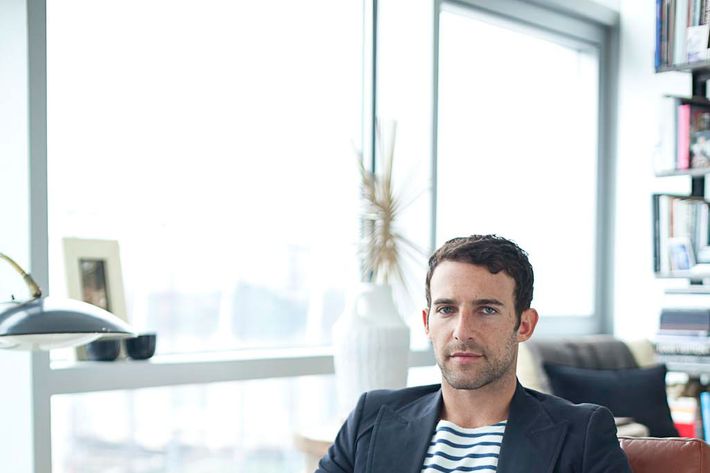 Carlos Huber, creative director of Arquiste

I was always aware of fragrance as part of the day-to-day. My grandfather wore Armani Classic. And my dad claimed to not be a fragrance guy. But he wore sophisticated Spanish cologne and smelled like lavender, pine, and rosemary, and very nice, and very manly. My parents would buy me miniature scents and I would wear them to pretend to be like my dad. In Spanish culture, you always dress up for things. For men, it's not seen as a superficial or metrosexual thing. It's a manly thing, just as you would put on a suit and tie.
I love that scent is not just a beauty product, but it can can change people's days, mindsets, and a person's opinion of something. It goes deeper. If I can bring extra meaning to scent with history and those little details, that's when you hit the magic stuff. Being in fragrance, it's all about focusing on the smell of living things and the smell of life. In a way, it's about combatting decay.
There aren't good and bad scents. There are just ones you don't like as much. I'm not personally a huge huge fan of Oud. I don't know if it's because I come from a different scent culture. It's really strong and overwhelming for me, and invasive. But I appreciate it. Also, I don't like very ambery things that don't mix well with florals. It smells a little like cheese.
Chocolate. The girl I first kissed was wearing this chocolate-flavored Chapstick/lipstick. We were 14 or 15. I was like, Mmm. It wasn't something you wanted to eat, but it stuck. It was during a movie. I remember the moment, leaning over, but I don't remember what I saw. I just remember thinking, I need to make this happen.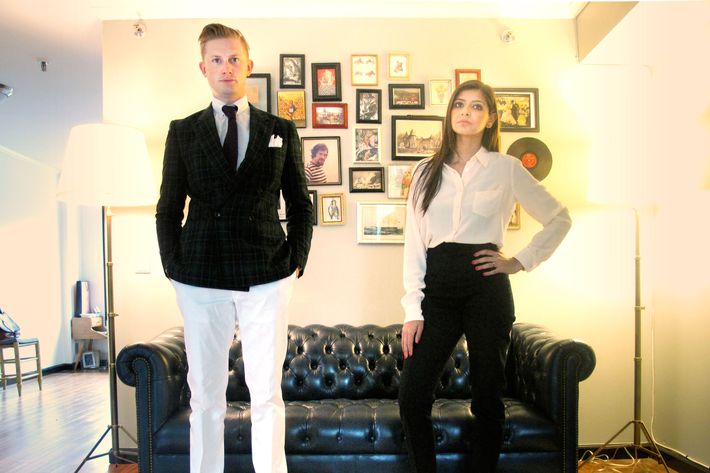 David Seth Moltz, perfumer at D.S. & Durga

My wife and I started to make products like shaving products and creams as a hobby. I was a musician, working in a restaurant, and she was an architect. I started to make scents, and people really loved it. So we said, Why don't we start a company?  It really took off. We realized we were able to put our passion for music into the making of the juice and packaging. I make all of our scents, and my wife does the design. If she doesn't like a scent though, we're not going to put it out.
I'm turned off by overly sugary, fruity florals that are ubiquitous [on the] mass-market. They can be done in a great way too, like J.Lo Glo. But usually, they're a little bit like the Real Housewives of XYZ. Also, Fabulosa — that cleaning product? That is just disgusting to me.
I'm from this small town near the ocean. In the summertime, there's this smell of the ocean salt. When you drive north towards my town, there's this smell of this disgusting bacteria that grows on the sand. Once you get past that, there's the most beautiful, scented salty air. It's a mix of salt spray and roses – which used to grow on huge bushes behind my parents' house. When my cat used to come in, a burnt bacon-y smell would waft in, too. It's the scent of cold woods in the winter. Those two scents combined.
My first scent was a bottle of Pierre Cardin, which I won when I was 6 at camp. It was a black and red bottle. Also, my dad wore the Polo in a green bottle. Pierre and Polo – I wore those when I was 6.
My first kiss was when I was fifth grade at a dance at Temple Bethel. There was a girl who was older. When we left, she was like, "Let's say goodbye." I was like, "Okay." And she said, "No, we have to say goodbye properly." And I was like, Holy crap! It probably smelled like the Body Shop, watermelon body-splash-something.
Sensual fragrances aren't just one thing. I love big, sexy florals and old-fashioned Grandma scents. My wife and I, we both love old-fashioned scents that are complex, like Chanel and Guerlain. They're like the Rolling Stones and the Beatles of fragrance. Chanel No. 5 is also a great Grandma scent. My grandma wore it. My wife has Agent Provocateur in the pink bottle, and I fucking love that scent.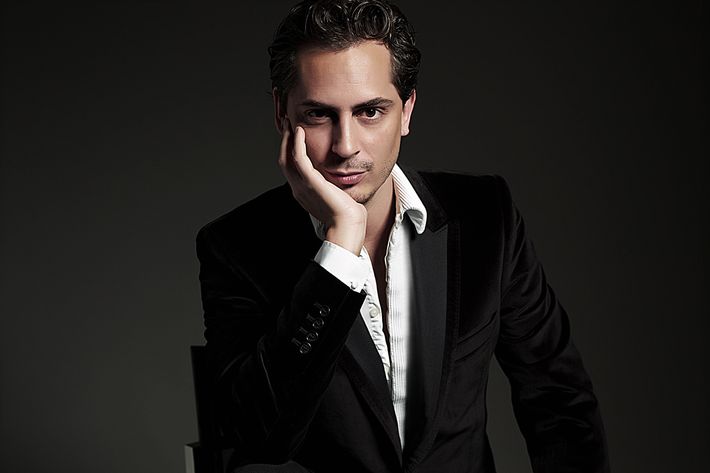 Kilian Hennessy, founder of By Kilian

Sensuality is very subjective, and often cultural. In India, women that pick the tuberose flowers are not allowed to approach men, as the scent is supposed to have an erotic power of attraction. For me, my most sensual scent on a woman is Beyond Love, Prohibited. It is a pure extreme tuberose scent which is the epitome of elegance, glamour, and eroticism on a woman's skin.
My first date smelled like my first scent, which was Vetyver from Guerlain. But the scent I wore on my very first date with my future wife was A Taste of Heaven, Absinthe Verte. Both scents have a very fresh yet elegant opening, but in both cases, the perfume has a very sensual and long-lasting dry down.
It's good news, I guess, that there are a lot of "hot men" in the perfume business. At last, perfume designers finally exist! After 30 years of products conceived either by marketing directors coming from the mass market or perfumes conceived by fashion designers, I am so happy to see the birth of perfume creators and designers with a strong perfume culture.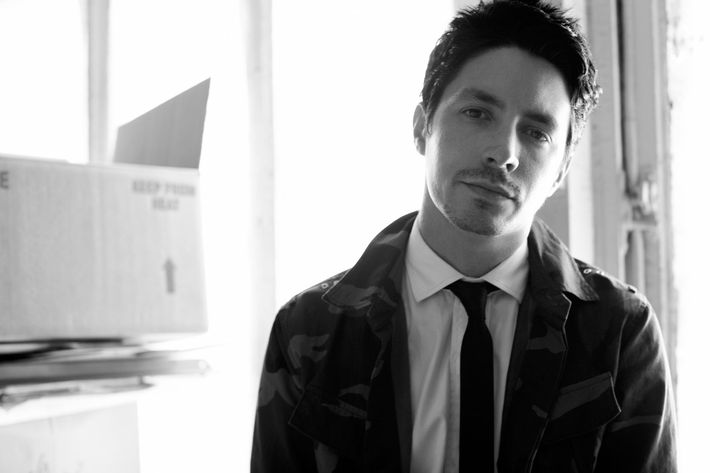 Frederick Bouchardy, founder of Joya

I am not a perfumer. I am a designer and producer, so I direct the creation of fragrances for my own brand, and I interpret other artists' and designers' visions and manufacture scented artifacts for them in my studio. People feel a real sense of ownership when it comes to the scent they choose — for their skin or space —
which is a beautiful thing. I mean, this is why we produce fragrances. I also think that there are a lot of real aficionados who believe they have their own story to tell through fragrance — they mix oils, make soaps and candles. This is also fantastic, because it pushes companies and creators to design signature works that really have a reason for existing.
My childhood smells like lily of the valley from my folks' house upstate. That those tiny little bells have such a powerful, unplaceable, sweet smell … It's just seems like it can't be real. My grandfather used to wear an Eau de Cologne splash called Gingembre (ginger). It was subtle, clean, very French, and what I remember a grown man was supposed to smell like.
My first kiss is another upstate memory. I'm not sure why, but it's the scent of rhubarb, which used to grow around the barn. My first girlfriend was very cool. We used to go camping and swimming in the lake nearby, even when it had a film of algae. She loved U2. And she had her hair cut a bit like Miley Cyrus does today. I planted a first kiss on her and jumped on my bike and sped off.
A fragrance is sensual when it makes your skin tingle or get warm. The most sensual one I've created has to be something I handmade for my woman. I think it was called Smoke & Flowers. It smelled like white florals (tuberose, gardenia, jasmine) on fire.
I do believe we have hard-wired responses to certain scents. Habits and tastes are learned and acquired, for sure, but how else can you explain the seductiveness of Auntie Anne's pretzel butteriness wafting through the airport?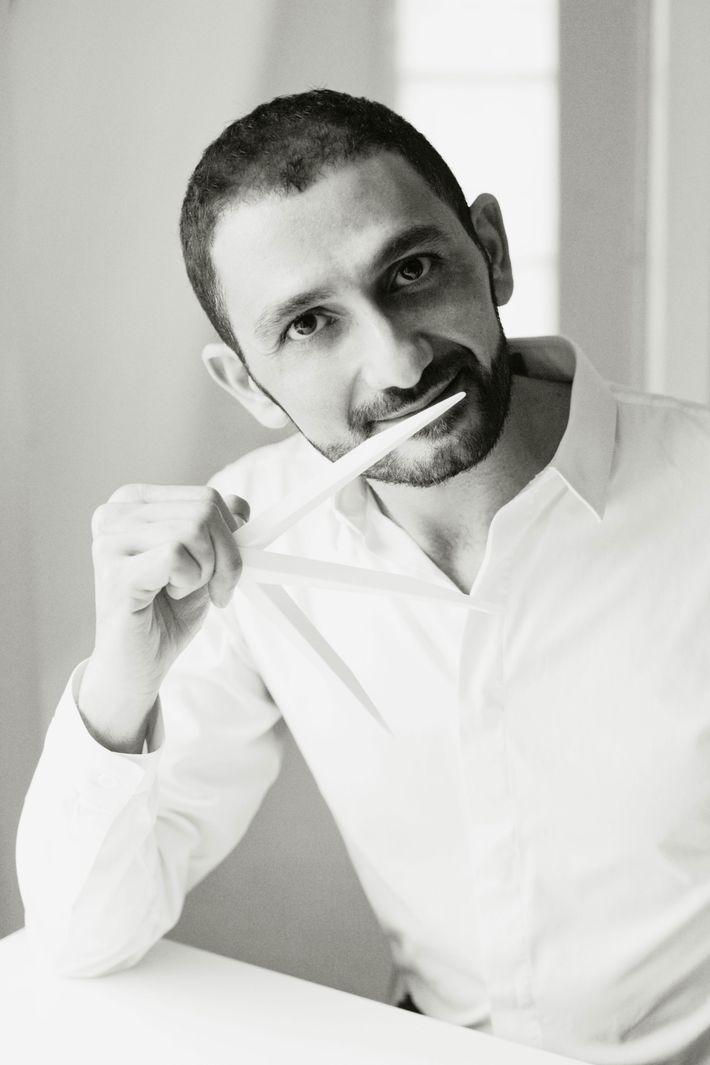 Francis Kurkdijian, founder of Maison Francis Kurkdijian and the nose behind many scents

Perfume is not a beauty product. It has nothing to do with nail polish, mascara, or lipstick. Perfume is not even a product, as it is invisible once you have sprayed the fragrance on you. I like the fact it is invisible and yet it gives you incomparable and unsurpassable feelings and emotions. There is nothing like this. Maybe music, but the feeling is not as deep.
I like when the fragrance melts on the skin, when it becomes part of you, with the idea of being your own smell and not something you put on. This is what I try to achieve for every single fragrance of my collection. This idea is very complex to achieve and explain. The fact that a fragrance melts on skin is a technical issue that can only be created when you use a certain amount of natural ingredients or integrate in your formula some sensual/animalic notes that give the fragrance a "natural" twist or feeling.
Each of my family members has a distinctive scent which I can still remember. My grandfather used to dilute his own cologne. A blend so special, I have never discovered the recipe. I remember him mixing things. I was so intrigued and fascinated and also proud of him! He was a hero to me. My grandmother was the ideal grandma: caring and loving. She covered me with kisses and, of course, her fragrance (Femme by Rochas), which would be printed on my skin from all her kisses.
My late mother had different fragrances. She was very modern, I think, for her generation. From fresh fragrances such as First by Van Cleef & Arpels or Fidji by Guy Laroche to Mitstouko, or even For Her by Narciso Rodriguez. She loved chypre notes/fragrances.
As a perfumer, I am a normal person, you know. Dirty smells bother me like anyone else…
Nakedness can be composed of many things in a wide olfactory range, from delicate, soapy, clean smells if it's after showering to more sensual, narcotic ones after sex, for example.