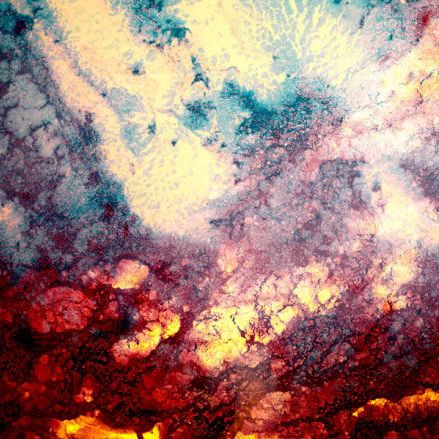 Photo: Courtesy of Christopher Peun
Fashion photographer Chris Peun turned a zoom lens to nail polish and magically managed to photograph dramatic astronomical collisions of interstellar dust and memory. Your nails are so shiny because they're full of the secrets of the galaxy.
Inspired by the Hayden Planetarium and his work in fashion photography, Peun gathered up some leftover makeup as well as other household products (paints, inks, solvents) and photographed their surface tension. Like a Twilight Zone episode that reveals a woman's pinky nail actually houses our planet, these photographs show that all the phenomena of space is contained within swirling polish.
Your thumbnail boasts all the power of a fiery planet and an exploding sun. Your fingertips hold the sands of time and the ashes of history. One part "Coy Coral" (CoverGirl) and two parts "Blue Mosaic" (Revlon) can reveal the battle of the elements, and the clash of earth and fire and air and water.  It is an infinite black hole. It is the simple power of the Milky Way and a flood stream through undisturbed sand. The chipping of your polish is the cracking surface of the apocalypse.
Peun told Wired:
Sometimes the recipes evolved very slowly and other times enormously quickly. It was a battle much of the time to be ready to capture the flux that was going on.
Just as the Universe transforms in the eyes of Father Time.