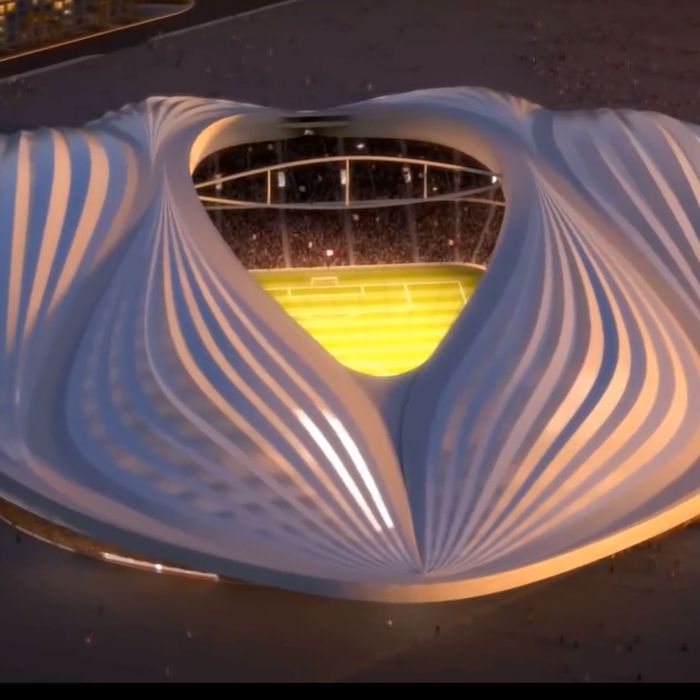 Zaha Hadid, revered female architect, is kind of getting sick of the vagina comparisons she's been getting all week. After she unveiled designs for the Al Wakrah Stadium for the 2022 World Cup in Qatar,  everyone from Jezebel to Jon Stewart (who called her the "the Georgia O'Keeffe of things you can walk inside!") have pointed out the stadium's unfortunate resemblance to lady parts.
Hadid  got a little feisty  in an interview with Time: "It's really embarrassing that they come up with nonsense like this,"  she said. "What are they saying? Everything with a hole in it is a vagina? That's ridiculous."
Ironically, in 2010, Time wrote that Hadid's "womanliness is what makes her designs so compelling. She brings a female sensibility and a goddess's touch." Would it be cool if Hadid made a large monument to our carnal flower? Absolutely. But if that wasn't her intent, then we should probably stop adding pubic hair to the structure on TV shows (here's looking at you, Daily Show).  "Honestly, if a guy had done this project," Hadid added, "critics would not be making such lewd comparisons."
For what it's worth,  Hadid says the "curved open roof is meant to evoke the sail of the dhow, a traditional fishing boat common in Qatar," reports Time. Not a labia.