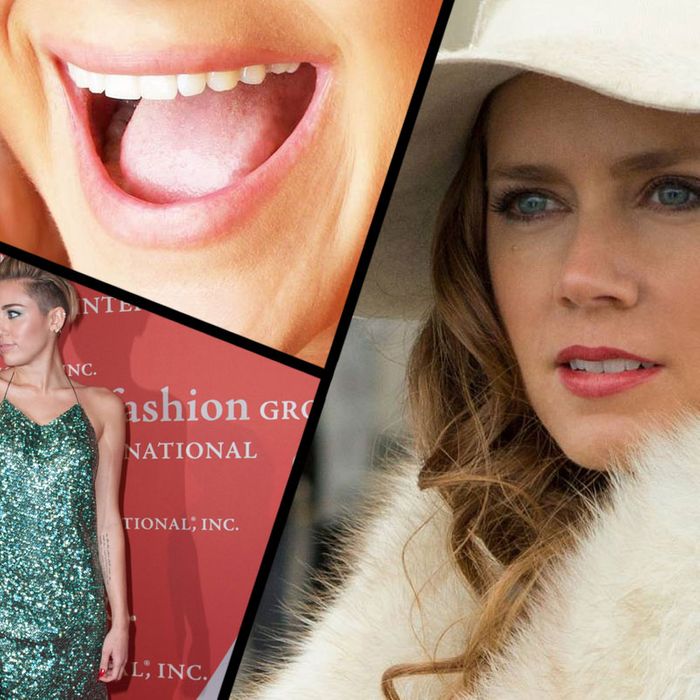 This week's pursuit of woman-relevant topics led Cut writers to speak to a man responsible for Beyoncé's Internet-breaking music video brouhaha, interrogate people about their unsafe sex stories, and review a year of sheer in fashion.

1. Is living in filth the only path to housekeeping equality? No, living in filth is a cop-out, writes Jessica Grose. Dudes, just do your dishes.
2. Is your crotch on fire? You can commiserate with the fifteen people who discussed their unsafe sex stories.
3. Who decided Christian Bale should sport a mop of hair on his chest? That would be Christian Bale, says the head of the makeup department for American Hustle, in an interview with Kathleen Hou. Lots of hair to discuss for this one.
4. How rich do magazine editors think we are? Erica Schwiegershausen did a painstaking breakdown of gift guides from magazines and found that some editors think we have $1.7 million (dollars!) to spend at Christmas.
5. Hey, would you lie and say you had a child for the sake of making interesting conversation? Perhaps you are a people-pleaser, like Allison P. Davis, who writes about trying to change her ways.
6. Who is Barbie Birkin? Just a doll that has it all. We speak to the anonymous creator behind a brilliant, Warholian Instagram account.
7. What are fashion people getting each other for Christmas? The Cut played fashion Secret Santa, and here's how it played out. Day One: Simon Doonan got his book. Day Two: Mickey Boardman got a blinged-out Little Mermaid phone case. Day Three: Leandra Medine got a wrist party. Day Four: Joe Zee got an art print. Day Five: Jane Larkworthy got a cool toothbrush.
8. Why the squeeeeeEEeeeEEeeeeEEEee? Maureen O'Connor explains the lady squeal.
9. What is Beyoncé up to this week? Oh, nothing really, just having a sense of humor and releasing a surprise album all in one go. Sally Holmes broke down all of the looks from Bey's new music videos (and whoa, there are some looks) while Allison P. Davis spoke to the man behind "Yoncé" about definitions of sexiness.
10. Who ran the gamut from best to worst in this year's fashion? The Fug Girls have one Miley Cyrus making both the best and worst lists for their 2013 red-carpet retrospective, straight from her slinky Marc Jacobs green-machine gown to her Biggie/Tupac butt.