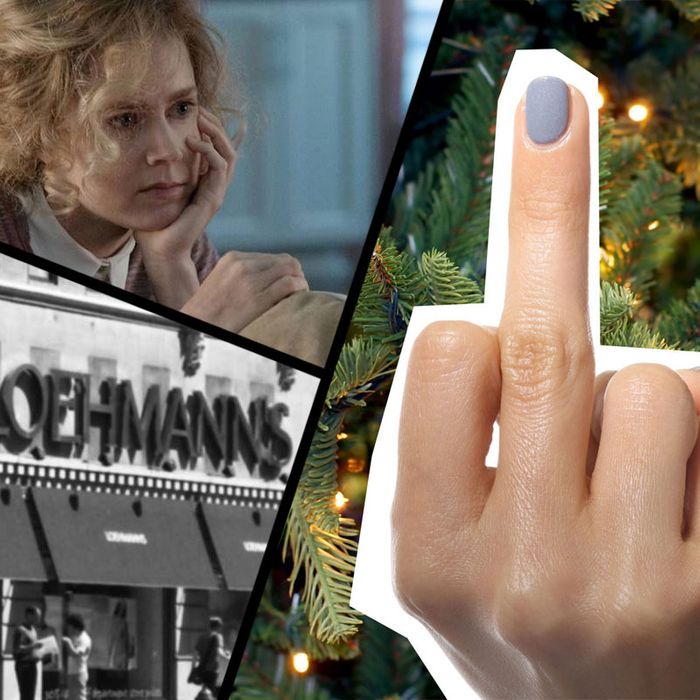 This week, the Cut's pursuit of female-centric topics led writers to remember Loehmann's, catalog film's greatest influences on the fashion world, and wear their feelings on their fingernails.
1. What does the future look like in Spike Jonze's new movie Her? Not very sexy, reports Stella Bugbee: A fleece vest seduces no one.
2. What to wear you if you want to subtly (and stylishly) tell your family how you really feel? Try sporting nail polish with a name like I Don't Give a Rotterdam.
3. And what if some relatives are a little rude to you this week? See how their comments compare to the tidings of comfort and joy we received from our loved ones.
4. How to stave off boredom this weekend? Try these aesthetically minded film favorites from fashion-influencers, collected by Ken Miller. Basically you can't go wrong with Faye Dunaway.
5. Are you dating a Celestial Seasonings man or a Red Bull man, and what does it mean either way? Charlotte Cowles speaks to the authors of a book analyzing men by their preferred brands. Best hope you're not dating an Abercrombie bro.
6. Is your home stuffed to the gills with bags after a season of shopping? Well, here's a brief history of how the shopping bag came to be. The more you know!
7. What are your memories of Loehmann's? Jessica Silvester has a lovely essay about shopping with her mother at the now-shuttered store.

8. Is there more to Twitter feminism than listicle-ready complaints about stereotypes? YES, say the activists who spoke with Maureen O'Connor — although second-wave-style infighting is alive and well.