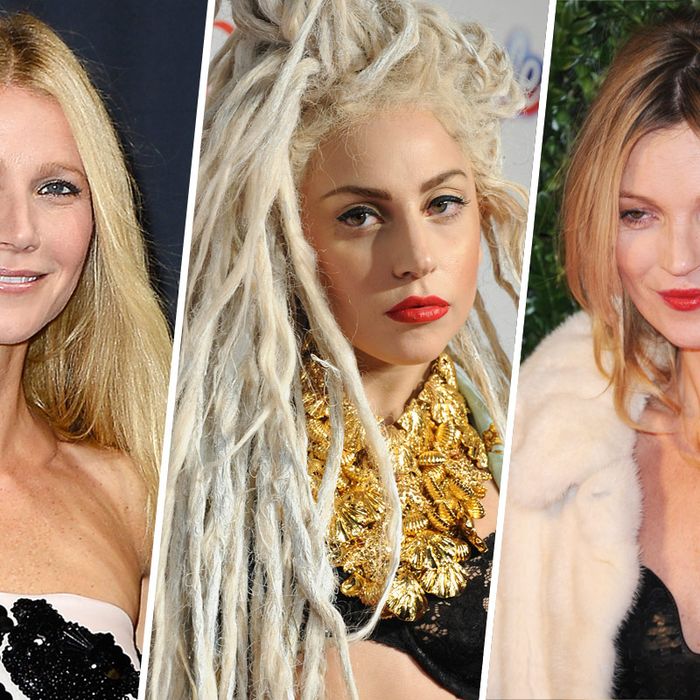 Photo: Pascal Le Segretain; Stuart C. Wilson/Getty Images
Although Jezebel and avant-garde fashion magazines had been predicting it for years, 2013 definitively marked the end of the Brazilian's totalitarian reign over America's crotch. After two decades of increasing and assiduous denial, a critical mass of women — famous, Instagram-famous, and anonymous — acknowledged the existence pubic hair. In some cases, they let it be seen.
This is a relief, both physically and psychologically. Because of the hairless bikini line's association with pornography (where ample bush can block the view), the move toward waxing seemed to some like an indicator of female degradation. Or maybe the trend revealed widespread latent pedophilia? Debates about the meaning of pubic grooming inflamed comments sections, as irritating and as stubborn as our ingrown hairs.
But times are changing. In fact, looking back over the year in pubes suggests that the Brazilian wax — that horseman of feminist apocalypse — is in fact just another grooming fad that came, went, and will now be personally and stylistically deployed, like overplucked eyebrows or pointy fingernails. Grown women, lazy women, panicked moms of tweens, and the pain-averse: Enjoy this swing of the pudenda pendulum.
Majority Bush
According to an online poll of 1,870 women conducted by a U.K. pharmacy, 51 percent of women "do not style or groom their pubic hair," for the reasons that they can "no longer be bothered to keep up the grooming" (45 percent) or their partner "prefers a natural look" (62 percent).
ArtFlop Bush
Poor Lady Gaga. By December, visible pubic hair, paired with a mustache and scorpion pasty on the cover of trans-interest mag Candy, was no longer controversial enough to make a sales-boosting splash. Not the month Beyoncé dropped.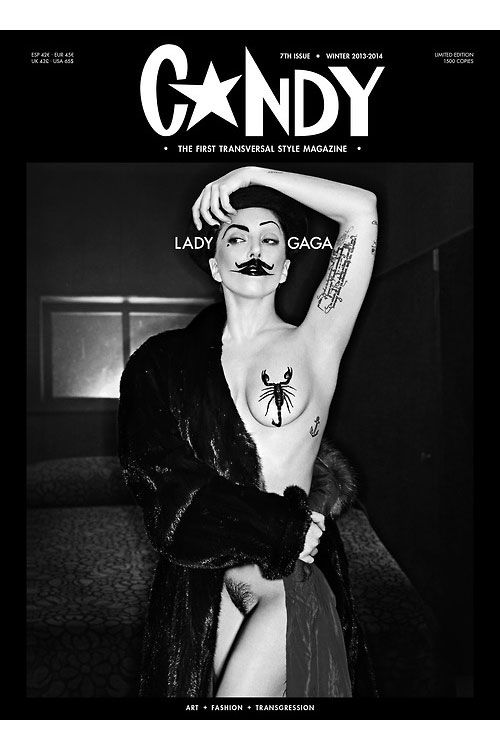 Merkin-Not-Required Bush
Two women approached Gaby Hoffman at the Sundance premiere of Crystal Fairy (much of which the actress spends naked) "to ask how she'd gotten the merkin — a pubic wig — to adhere," according to a New York Times Magazine profile. "That's just me," she reportedly informed them. "I'm a human. I have hair." Elsewhere in the profile, pubic hair becomes a metaphor for the gritty authenticity of New York City circa Hoffman's Chelsea Hotel upbringing.
Method Bush
Debi Mazar's role in seventies porn biopic Lovelace did not require full-frontal nudity, but she grew it out anyway. "I was ready to try to really be authentic and it wasn't necessary," she told Paper.
PSA Bush
Concerned that "waxing culture" had become so monolithic that "some young women don't see it as a choice," London advertising agency Mother issued a "call to action for women to stand up to the pressures of modern society and present their bushes in all their glory." That is: have their crotch anonymously photographed for a photo exhibition.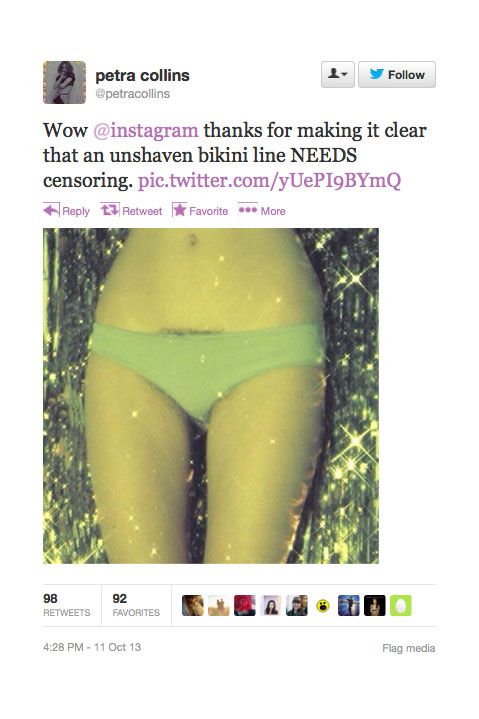 Political Bush
There are some six million #bikini pics on Instagram. But only artist Petra Collins's unshaven submission violated Instagram's no-pornography rule. (And you thought it was the hairless who looked porny!) "The deletion of my account felt like a physical act, like the public coming at me with a razor, sticking their finger down my throat, forcing me to cover up, forcing me to succumb to society's image of beauty," Collins fired back in in Oyster Magazine. "These very real pressures we face everyday can turn into literal censorship."
The Bush of Record
From Amanda Hess, in the New York Times's lifestyle magazine supplement: "After years of razors, wax and lasers reducing pubic hair to the bare minimum — or nothing at all — there's a return to a more natural state."
Vintage Bush
Frequently nude Kate Moss went full-frontal but not fully waxed in her Playboy debut this month (the magazine's 60th anniversary issue), a sign of both Playboy's retro-benevolent sexism and the great pube comeback.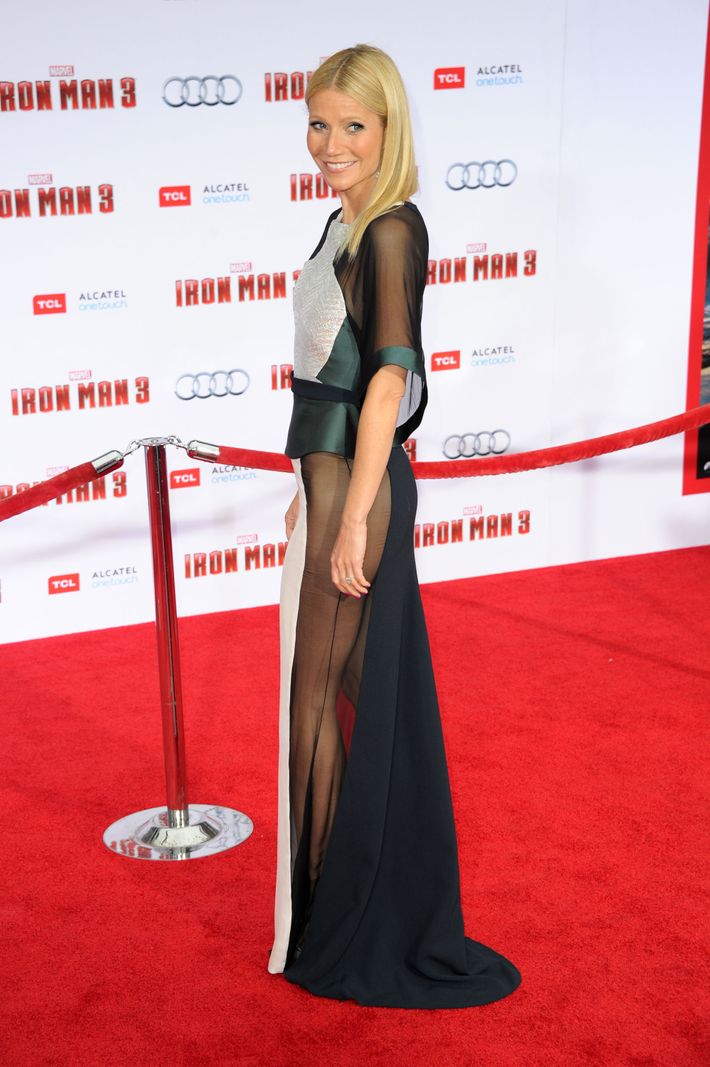 Likeable Bush
The week Gwyneth Paltrow was named America's most beautiful and most hated celebrity, she began her image-repair campaign by telling Ellen DeGeneres a very personal, slightly embarrassing story normal gals like you and me and Jennifer Lawrence can relate to: The time she scrambled to find a razor after discovering that her "'seventies vibe" pubic hair disrupted the line of her sheer-paneled red-carpet gown. "I hope you're not trying to bring bush back," her brother-in-law later remarked. In addition to being creepy, he got it backwards: Gwyneth needs bush more than bush needs Gwyneth.