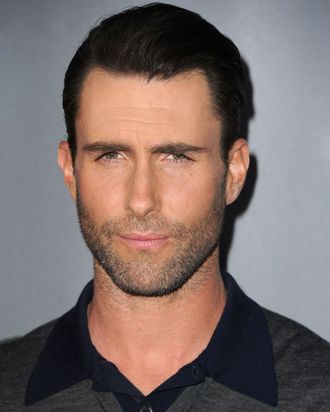 Photo: Steve Granitz/WireImage
After selling you his perfume, his Kmart flannels, and failing to sell himself as the Sexiest Man Alive, Adam Levine will now attempt to sell you Obamacare. In an effort to drum up some interest, health-care experts have turned to a ragtag batch of celebrities to promote health insurance. The set includes Fran Drescher, Kal Penn, and basketball star Lisa Leslie.
Peter Lee, the executive director California's state's insurance exchange and the man behind this plan, said:
The idea is a drumbeat of dialogue, a drumbeat of discussion about coverage — not about glitches, not about the politics, not about the pundits.
Ah yes, a drumbeat of "hot," "sexy," "famous," "bad" "boys." It goes without saying that this is probably not the best way to address the many valid criticisms of healthcare.gov.
But as Alexander Abad-Santos points out in the Atlantic Wire, Levine's deep lameness might actually be a subtle sign that things are going fine for Obamacare. Obama has lots of bigger cards he could play (Bono, Clooney, Wintour, Dunham, Oprah) if things were truly dire. For now, look upon Levine's bland scruff and trust in our country.