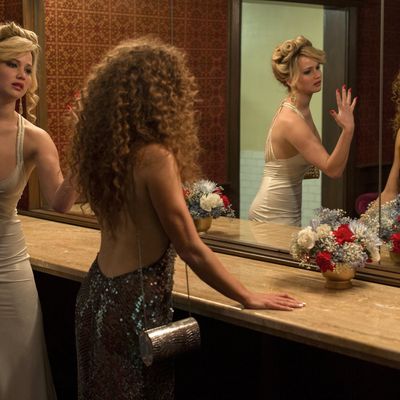 Photo: Annapurna Productions
In David O. Russell's new seventies heist film  American Hustle, Amy Adams plays Sydney Prosser, a.k.a. Lady Edith Greensly, a con woman with a penchant for sparkles and plunging necklines. Adams shimmies across the screen in a series of low-cut, braless dresses that – along with Christian Bale's horrendous comb-over and Bradley Cooper's perm – are a testament to the ridiculousness of seventies style.
"It was this era of feminism and we were beginning to sort of see ourselves as sexual equals to men," Adams told the Cut at Peggy Siegal's premiere after-party on Friday. "My character felt really empowered by it, so I just saw it from her point of view and didn't think about how I felt about it." Of her series of low-cut dresses, Adams said: "When I look at it now – when I watched the film, I was like, Whoa, there could be a drinking game with how close it comes to my nipple. Like, every time you think you see something, people would be, literally, really drunk."
She also claimed that there were no shortcuts when it came to keeping her dress squarely affixed to her boobs. "There was no tape! I never used tape," she said, laughing. "It's a credit to my posture. And good editing. And nudity clauses." Impressive. Can she please win some sort of award for this? Least Supported Actress?