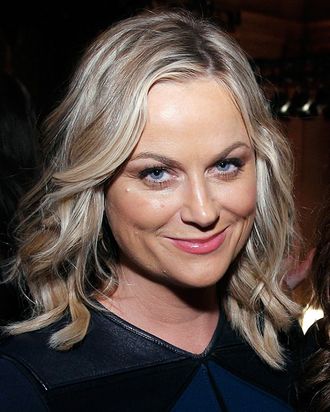 Photo: Brian Ach/Getty Images
Paper Magazine profiled cool camp-counselor Amy Poehler. During this interview, Poehler seemed to be in a reflective, times-they-are-a-changin' kind of mood. First, she remembers moving to New York, when she would just smoke cigarettes and watch Lou Reed walk around:
I was just getting very nostalgic this week about Lou Reed, too. So many of my early memories of New York are of smoking. We all smoked. I was really young, and thought I could live forever. And I remember smoking after a show one night in the late '90s, outside Theatre 80 on St. Marks, and Lou Reed walked by. I bet a lot of people in New York have a Lou Reed sighting – he's so iconic, and so New York. And I remember thinking, 'Oh my God, I can't believe I live here.' He was like a robin in spring. He was like the guy who told you you lived in New York. I always assumed that Lou Reed just walked up and down St. Marks all day long.
But now, behold, things are different! Poehler, who is producing a television show based on the web series Broad City, says she quizzes stars Abbi Jacobson and Ilana Glazer on the ways of the current city youths. Instead of cigarettes and Lou Reed sightings, these kids have got a whole 'nother bag of tricks going on:
I'm always asking Abbi and Ilana questions about their lives, because I'm fascinated. I mean, everyone under 26 seems gay to me. Both men and women. I often ask myself, is everyone gay? There's this gender fluidity that I think is generational, and that's new.
At least one person is fascinated with the millennials.