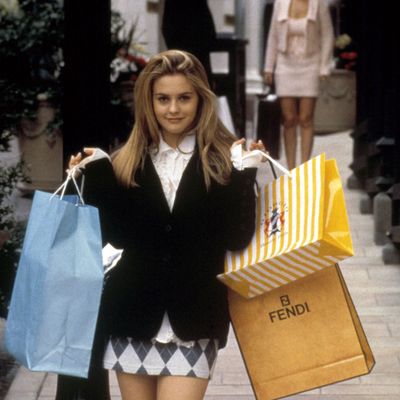 Photo: Paramount/Courtesy Everett Collection
In Pretty Woman, the defining gesture of Julia Roberts's character's newfound confidence is marching into a boutique that previously refused to serve her and hoisting shopping bags from other stores. It's not just peacocking, but it's a proud display of her purchasing power.
The shopping bag isn't just utilitarian, it's symbolic of taste, preferences, and pursuits. In his book Living It Up, author James Twitchell compares people holding shopping bags to "the powder on the heinies of migrating bees as they moved from hive to hive." It's a souvenir of where you went and a glossy declaration of conspicuous consumption.
With the growth of online shopping and bring-your-own-bag-you-gross-consumer attitudes, is the shopping bag in its decline? Maybe so. In the meantime, let us look back and appreciate its history.
The Early Years
In the age of street vendors and sprawling town markets, shoppers carried purchases in their own baskets and bowls. It wasn't until the early 1800s, writes Pamela Klaffke in Spree: A Cultural History of Shopping, that stores began to provide packaging themselves. The mass production of paper had cheapened the cost of wrapping, and stores would use string to create makeshift handles.
Stores also carried out their own deliveries. At the turn of the nineteenth century, shops offered free delivery as part of a marketing tool. By the 1910s, gas-fueled cars and trucks began to replace horse-drawn buggies. Stores soon started to paint their trademark colors and logos on the trucks, writes Jan Whitaker in Service and Style, as a prototype to the mobile advertising of shopping bags. As people started to increasingly own their own cars, they needed carts and shopping bags.
The shopping bag as we know it evolved piecemeal. In 1852, a schoolteacher named Francis Wolle invented the paper bag, which was originally envelope-shaped and ridiculously flimsy; nineteen years later, a cotton-mill worker named Margaret Knight invented a machine that could efficiently produce these bags. She became embroiled in a patent lawsuit after someone (a man) stole her idea, but she emerged victorious, established the Eastern Paper Bag Company, and earned royalties for years. About ten years later, Charles Stilwell patented a machine that gave the bag pleated sides — he called it the SOS for "self-opening sack."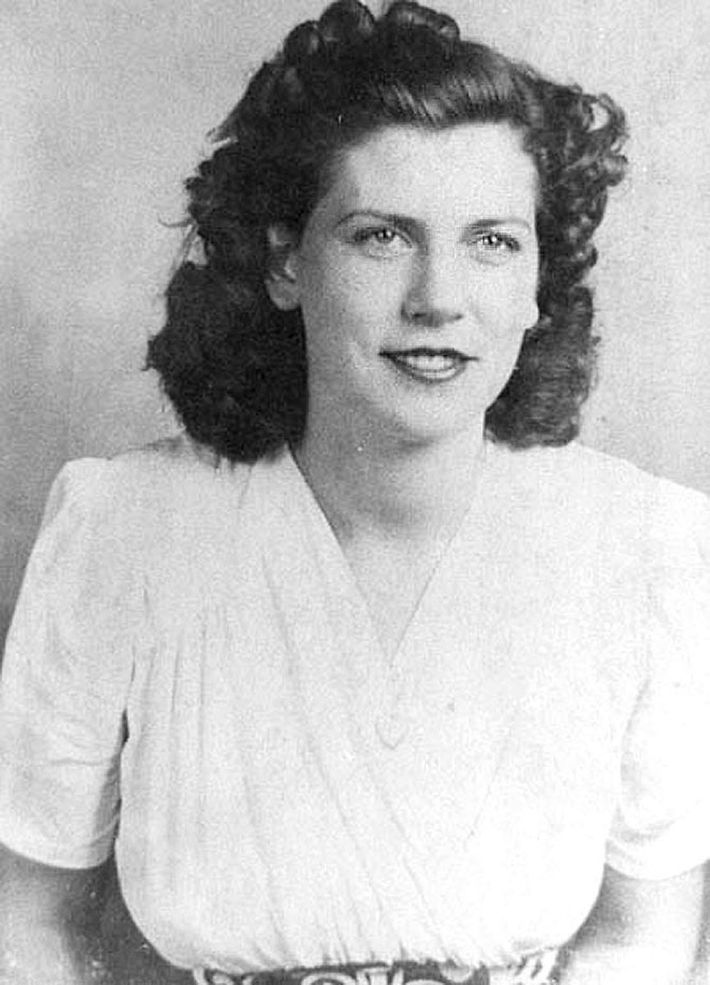 The proper shopping bag with handles emerged in the following century. In 1912, St. Paul grocer Walter Deubner noticed that his customers were limited by what they could carry. To encourage them to buy more, he developed prefabricated, inexpensive packaging that could hold up to 75 pounds of groceries — a paper bag  with a cord through it for strength. He called it the "Deubner Shopping Bag." He sold it for five cents. (Adjusted for inflation, the bag would now cost about $1.12 per bag.) In 1915, he patented his invention and sold over a million shopping bags a year. It wasn't until 1949, when the Interstate Bag Company made a machine that efficiently attached handles to the bags, that retailers could really afford to give them away.
The Modern Bag
Around that time, shop management teams began to realize that they could use their shopping bags to promote their stores. By the late fifties, department stores especially began to emblazon their bags with logos and signatures. Bloomingdale's in particular led the way for recognizable carriers: They debuted their Big Brown Bag in 1973.
Shopping bags are an easy way for stores to establish their brand. The light robin's-egg blue of Tiffany's is simple, preppy, and unmistakably expensive looking. The abs of Abercrombie have no shame about their brazen, sexy, juvenile attitude. GAP wants you to know it's accessible and chic. Prada's got a little fussiness to its sparseness. Henri Bendel's chocolate and white stripes are only slightly eccentric. The pink stripes of Victoria's Secret are "sexy," in a cartoonish way. Chanel is bold, elegant, with so much shine that it's getting close to tacky.
The bag itself has become a stand-in for the brand. A 2008 Marc Jacobs ad showed Victoria Beckham sitting in a shopping bag — it was both joke about celebrity culture and a very literal way of depicting a star in Marc Jacobs.
The "It" Bags
Bloomingdale's famous and beloved L'Espirit de France bags, decorated like tarot cards, debuted in 1961, and inspired other stores to take pride in artfully decorating their shopping bags as well. In Like No Other Store, his book about Bloomingdale's, Marvin Traub writes that "having the tarot card became a status symbol." Other stores began commissioning painters, artists, photographers, and architects to decorate their shopping bags. David Hockney, Keith Haring, Annie Leibowitz, Richard Avedon, Joseph Beuys, Paloma Picasso, and Michael Graves have all designed bags.
In 1964, Andy Warhol and Roy Lichtenstein designed bags for the American Supermarket art exhibit in New York. Warhol used his famous soup can; Lichtenstein used a turkey. They made about 300, and one has sold for over $4,000 at a Sotheby's auction. In 1978, Smithsonian and the Cooper-Hewitt National Design Museum in NYC curated a shopping-bag exhibit called "Portable Graphic Art." And a collector named Howard Foreman, who lives outside of Washington, D.C., has over 7,000 shopping bags; he's continued to collect them after his wife started in the seventies and founded a Museum of Bags in 2002.
Beyond Bags
The frenzied excitement over beautiful parcels is well captured by Émile Zola's 1883 novel The Ladies Paradise, which describes "parcel-tables with their boxes of string and reams of blue packing-paper," packaging for silks, and shopkeepers "unable to parcel up the articles fast enough." In 1951, Simone de Beauvoir's The Second Sex examined the importance that housewives take from their shopping experience, she writes: "For the time she is suspiciously examining the stalls, the housewife is queen; the world is at her feet with its riches and its traps, for her to grab herself some loot. She tastes a fleeting triumph where she empties the bag of provision onto her table." Martin Traub writes, in Like No Other Store, "The image of the store is like a good restaurant: the food or merchandise is a major ingredient. The sum total of the shopping experience — the exterior, window display, presentation, service, gift wrapping, logo, shopping bags, delivery, return policy — all create the image."
Owing to environmental concerns, the shopping bag's popularity seems to be waning: Reusable bags made of burlap or cotton are in vogue. In 2007, accessories designer Anya Hindmarch introduced the "I'm Not A Plastic Bag" campaign and helped make it popular for shoppers to carry their own bags. Meanwhile, some purveyors like Steve Madden and Urban Outfitters hand out their own reusable bags to customers. Some cities and states have begun charging customers for bags from stores. Of course, a reusable tote is a status marker, as well. In its way, it communicates just as much as a Tiffany's bag about the bearer's image and aspirations.