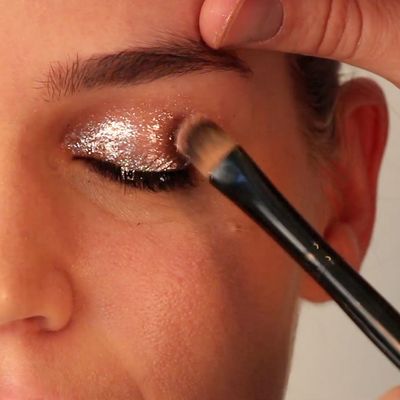 Glitter hasn't always had the most refined reputation. But around the holidays, the glitter eyeshadow, least-used in your eyeshadow palette, begins to look festive rather than immature. Beau Nelson of the Wall Group taught us how to do a holiday glitter-eye in a sophisticated way — or, in his words, "how to do glitter without looking like an asshole." Our model is the non-asshole Christy Meisner.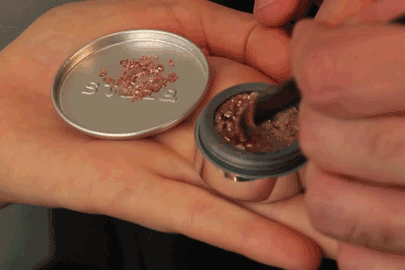 Step 1: Nelson used Stila's Magnificent Metals Foil Finish Eyeshadow in Kitten, a shimmer version of their best-selling pink-beige. Because of its beige undertones, this color suits people with different eye colors. If you are brown-eyed, you can try navy, deep blue, and mint colors. Blue-eyed people should stick to more cool-toned glitters, such as metal-based shades, and green eyes look good in pinks and purples. Hazel eyes look good with pretty much any color. (Lucky.) The Stila product comes with a primer, which you can mix in the tin or apply dry. Nelson applied a tiny, tiny dot to the eyeshadow and mixed it in the provided foil pan to create a slightly wet base.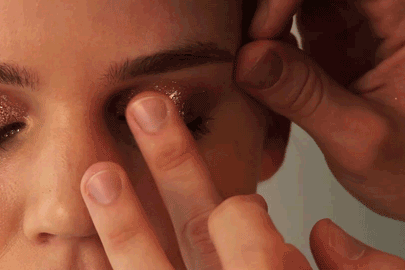 Step 2: Using a tapping motion to evenly distribute and pat down the glitter, Nelson covered Christy's entire eye with glitter, extending slightly past the crease for drama. He started with the center of the eye, moving towards the edges. Since the glitter is slightly wet, he advises keeping your eyes closed until all the glitter dries. An eyeshadow primer like Urban Decay's Eyeshadow Primer Potion will help it adhere.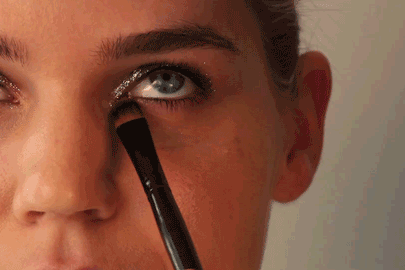 Step 3: He extends the glitter into the inner corner of the eye to highlight and brighten.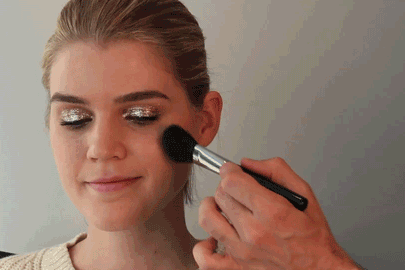 Step 4: Since this is a high-impact look, Nelson planned to pair the glitter-eyes with a softly bronzed cheek and a matte red lip (see next step). He swirled the blush brush with Hourglass cream bronzer along the cheekbones, angling slightly up.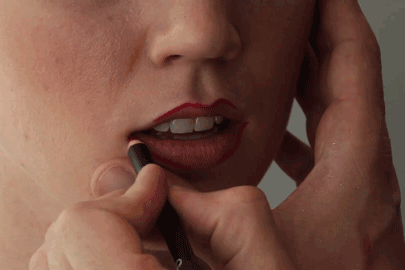 Step 5: Nelson chose a matte lip to balance out the confetti glitter. Using NARS Jungle Red, he starts by lining the lips from the inside out, and then fills them in with the pencil.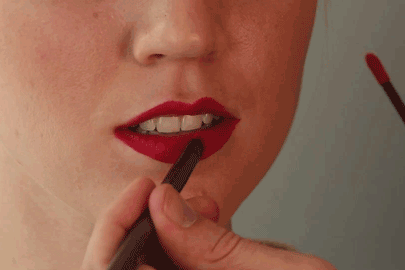 Step 7: To give the lip color dimension, he adds Armani Lip Maestro Matte Lacquer in Coral to the center of the lip.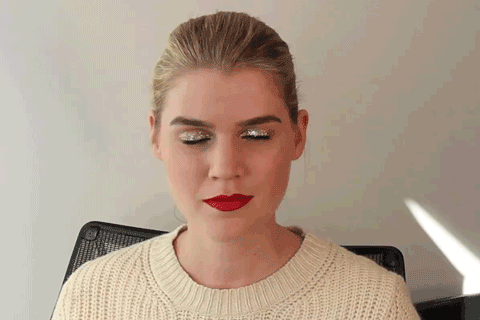 Step 8: To finish off the look, he dusts Shu Uemura Translucent powder over the face. Voilà! A non-douchey, sophisticated glitter-eye.