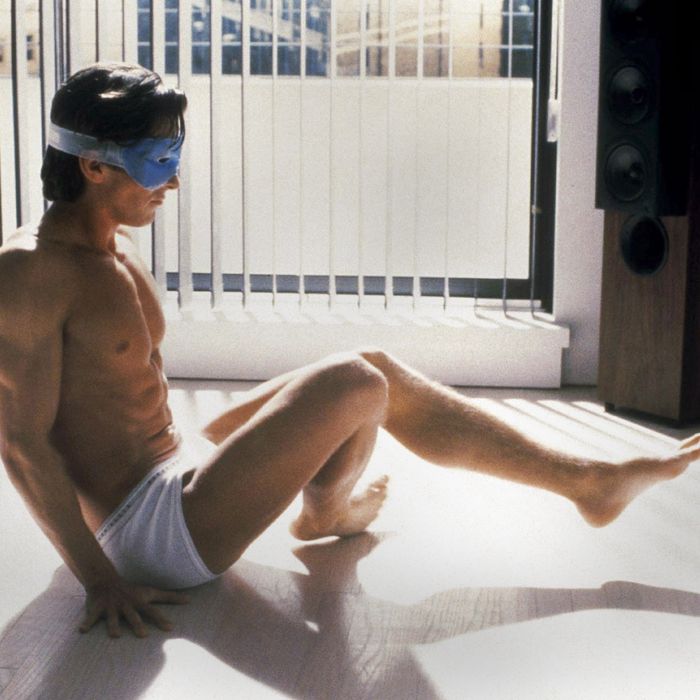 Photo: AQUARIUS/Lions Gate/Courtesy Everett Collection
You may never get into Dorsia, live at the American Gardens, or be able to do 1,000 crunches, but if you're a hardcore finance-world film buff, the one thing you can take away from American Psycho is a beauty routine worthy of Patrick Bateman.
Bateman had killer looks, begot by a compulsive vanity routine. He appreciated a good face mask, alcohol-free toner, and twelve sets of crunches. Still, how true to life is the film's iconic opening beauty monologue to the morning routines of real-life finance guys? The Cut asked five present-day Wolves of Wall Street/Patrick Batemans (anonymous, because we want them to keep their jobs, and similar only in beauty routines, not serial-killer instincts — these individuals have no videotapes to return) to walk us through their skincare and fitness regimens, full of Bulgari-somethings, Dove-somethings, and zero face masks or chainsaws.

1. Paul Allen, 29, private equity research analyst, New York
What's your morning routine like?
I wake up between 6:30 and 7 a.m. I exercise in Riverside Park, and jog a few miles. I do bodyweight exercises — a whole variety of push-ups, mountain climbers, squat jumps, and pull-ups.

Then I go home and make myself a shake out of spinach, fruit, and powders like Green Superfood, chia seeds, and protein powder, along with American black pepper to fight free radicals so I live forever.
After my shake, I take a shower and wash my hair with something my ex-girlfriend got me from Sephora. I don't use shaving cream. I do it dry and then I put a Boscia toner on a cotton ball and exfoliate my face.
Actually, toner isn't really an exfoliant.
What? But I see all this dead skin and stuff when I look at the cotton ball. What is it for? Anyway, then I do my hair, I blow it dry, and I use an Aveda gel. I moisturize my face with a Proactiv moisturizer.
No deodorant?
No. I don't stink. I wear cologne when I go out at night. Bulgari-something.
What's your beauty secret?
Don't eat meat. I was at this vegan restaurant in Chicago called Karyn's. This woman, named Karyn, who looked like Vanessa Williams, came up to us. She said was 63, but she looked like she was 40. She was hot, gorgeous, and a vegan.
After I saw that, I was like, "Vegetarianism is the fountain of youth!" I may not be much to look at now, but when I'm 70, you are going to be like, Wow, Paul, you were really onto something. I'm going to be a fucking vampire.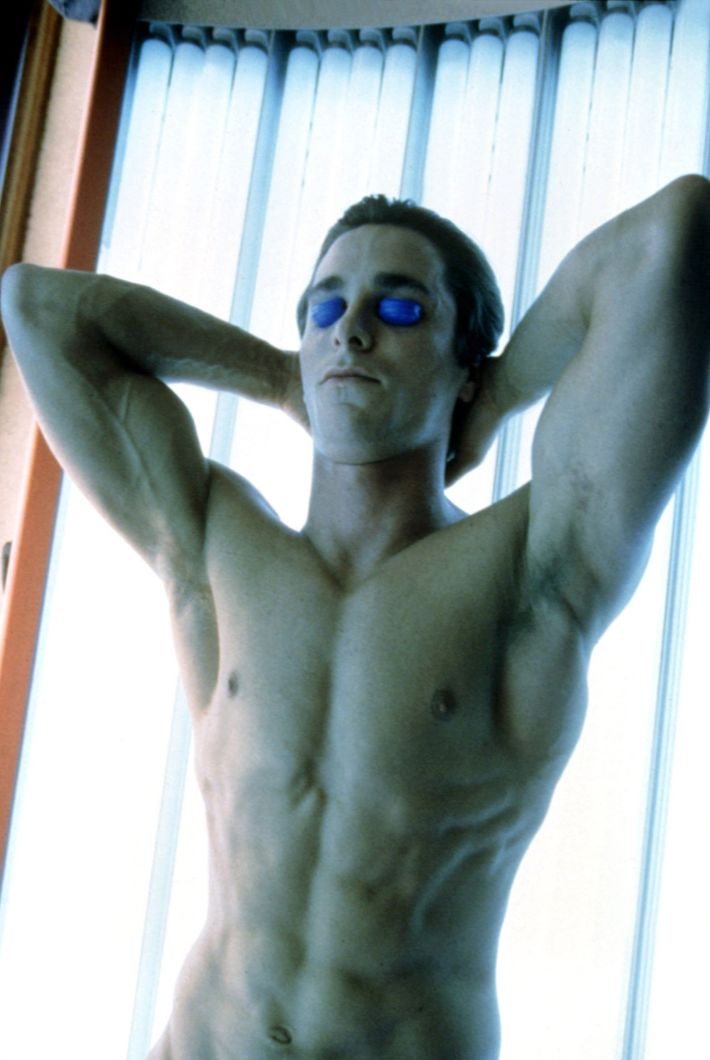 2. Luis Carruthers, 32, private equity associate director, Singapore
How do you begin your mornings?
I start with two espresso shots from the Nespresso machine and read the newspapers from front to back, with CNN on the TV. Then I shower, using a very mild Cetaphil cleanser for my body and an Extra Gentle cleanser from Avene for my face. After showering, I shave, after applying a hot towel to my face using a lavender-scented Aveda shaving cream.
What does lavender smell like to you?
Like a field in The Sound of Music? I don't know. It smells fancy, but not girly.
Do you moisturize?
Yes, I apply a generous amount of moisturizer from Physiogel. When I travel, I use peppermint soap and shampoo from Malin+Goetz, their grapefruit face cleanser, and their bergamot body wash. 
It sounds like you smell kind of fruity. 
Well, I hardly smell like a fruit salad. The scents are very subtle.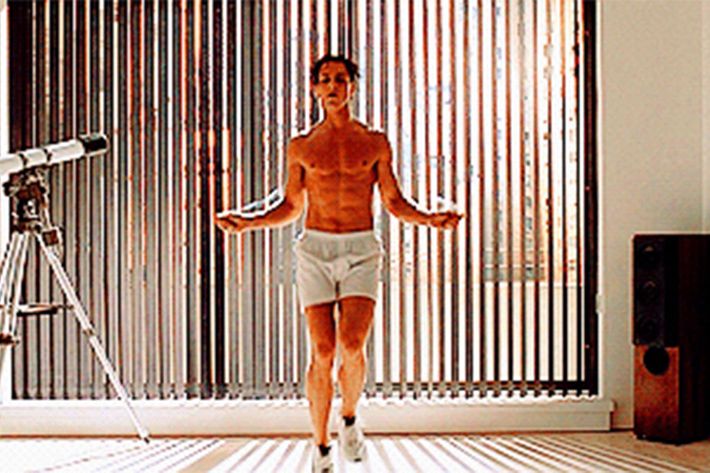 How do you work out?
I take part in two to three triathlons a year. I typically run or swim in the evenings after work, either running about six to nine miles each time, or swimming two kilometers in the pool. I do a 60-to-80-mile cycle on Saturday mornings with friends. In a typical week, I run about twenty miles, swim four kilometers, and cycle 60 miles.
Sometimes I'll add in an undulating six-mile trail run on Sunday.
3. Craig McDermott, 29, banking, Hong Kong
What do you do to get ready in the morning?
Usually, I just wash my face with water and shave with Gillette foam. After trying several other shaving creams, I still find the old-school Gillette foam still works the best for me. It really softens my stubs.
Then I use aftershave (Biotherm Aquatic Lotion) and moisturizer (Biotherm Aquapower.) If I'm going to be in the sun, I apply sunblock (Lab Series BB Tinted SPF 35.) If I'm feeling particularly vain, and I have acne, then Dermalogica Concealing Spot Treatment, cologne (Bulgari Pour Homme Soir), and eye cream (Lab Series LS Instant Eye Lift). 

Do you notice any difference in using products?
My face becomes too dry and gets oily if I don't apply the moisturisers and face wash. My skin definitely looks a lot better after I started taking care of myself more. It's easily visible.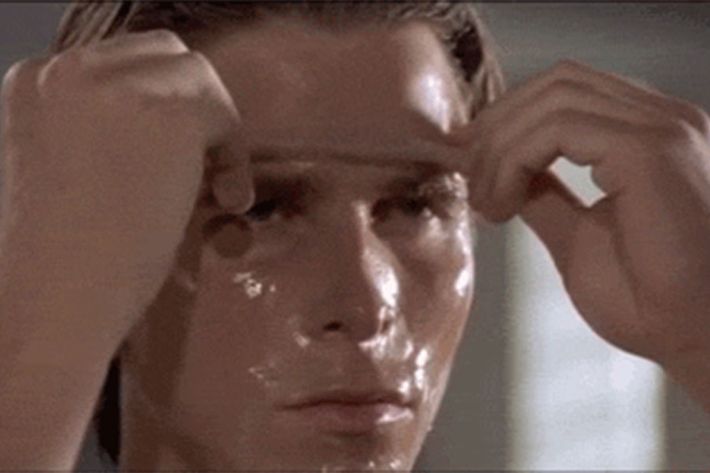 What type of skin maintenance do you do?
I wash my face every day with Biotherm T-Pur Anti Oil and get facials around once a month. I got a free trial coupon, so I went in to this facial place. It felt great, just like a massage. Face masks are way too much work, so I tend to avoid them.
How do you work out?
I try to work out every day. Typically, I would do muay thai or Brazilian jiu jitsu three or four times a week. Sometimes, weights for a day. I play tennis every week. I belong to a gym that specializes in MMA workouts.
4. Timothy Bryce, private equity, 28, New York
What is your morning routine like?
It's pretty straightforward. I wake up at 7:45 and take a shower. I shave in the shower using a Gillette Fusion razor.
What kind of soap do you use?
Um … something Whole Foods. Whole Foods Shower Gel, fragrance-free. Same thing with the shampoo and conditioner. I was walking through the aisle and it looked relatively inexpensive. It was $3.99.
Are you a fan of natural products?
Well, it said "whole trade" on the label. Other than that, not a lot of thought given to it. I figured it was as good as any.
And then … ?
I brush my teeth. My toothpaste is Colgate with white strips. And then … I get dressed.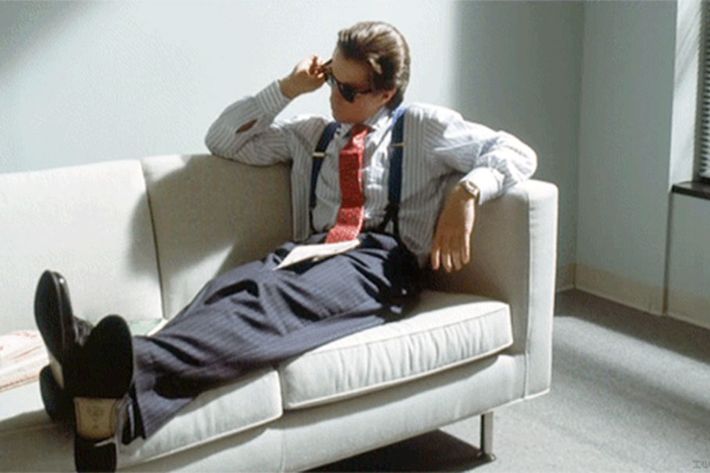 Do you do your hair?
No. Occasionally, I'll use a mousse. Dove-something. 
How long does the entire process take?  
Twenty minutes.  
Do you moisturize?
No, it's greasy. Like, it sticks to your skin and all that.
Have you tried other brands? Like Kiehls?
Oh, they have that at Equinox. It's greasy.
5. Humphrey Rhinebeck, 33, mergers and acquisitions
What time do you get up?
I get up around 7 or so. I just started a new diet very recently, so I've been drinking a whey-based protein shake. I shower, shave. I don't use a lot of product in the morning.
What's the new diet?
The new diet is like a modified Paleo diet — it introduces a little bit of fasting. You eat for eight hours and fast for the other sixteen hours of the day. The goals of the diet are fat loss, increased testosterone, and growth hormones. It's to get your hormones back in check. My exercise regimen is primarily weights, so it's a weight lifter's diet. I discovered it while listening to a podcast.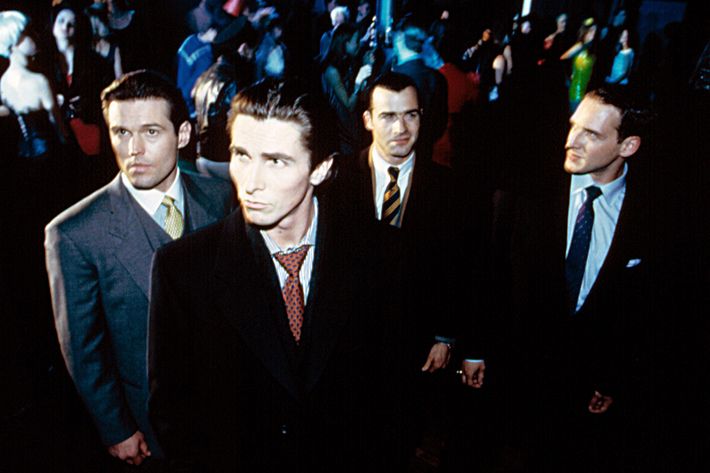 Do you find the fasting difficult given the hours that you work?
No, only because the concept of it is very protein-based. It's basically Paleo, but taking out the carbs. I don't find myself very hungry.
What type of things can you eat on the diet?
Healthy fats, avocado. I'm drinking flaxseed oil because it's a healthy fat and has no carbs in it. It's a little counterintuitive – it talks about needing monounsaturated animal fat. Where I would usually eat chicken, I eat beef instead.
What type of products do you use?   
I use an Old Spice body wash and Cetaphil as a facial cleanser. Then I use a Lab Series facial scrub three to four times a week. I've used Nioxin shampoo for years. I also use the Clinique Men's shave gel, it's the least irritating. I've had really sensitive skin for ten to twelve years now. I use KMS molding paste in my hair. And then, at that point, just getting dressed. I use an Old Spice deodorant.
Oh, so you're an Old Spice guy.
I probably picked it up for eight years or so. If I find something I like that doesn't irritate my skin, I stick with it.
What do you do differently at night?
I started using some of the Lab Series products: an under-eye balm and a nighttime recovery gel. I discovered it through a magazine, probably something like GQ or Esquire. After using the Lab Series scrub for a few years, I branched out into the other products.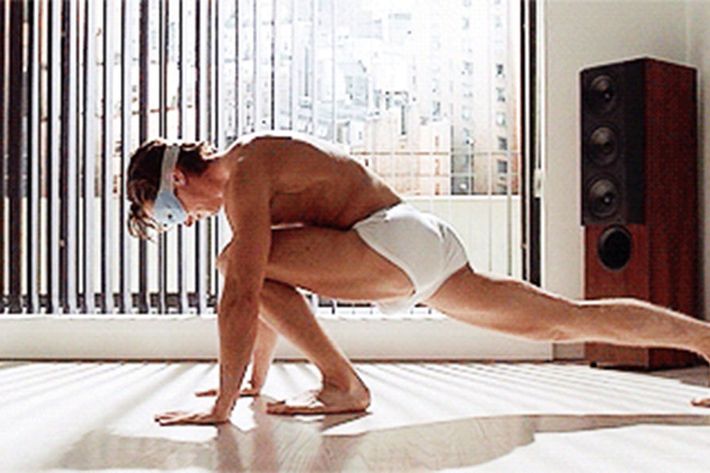 What is your workout regimen?
I aim to work out about four times a week for about 75 to 90 minutes. It's mostly free-weights-based, with very little cardio. I go after work, around 8 or 9 p.m. If I have to work late that night, it's a good break from the office.
Do you do any type of gym classes?
No, those are for people who don't know anything about exercise. Just like personal trainers are for people who don't know what to do or how to do it. I'm an informed consumer, so I do my own research.
I craft my workout routine through reading various exercise-routine books. I pick and choose things that I like and put them together. There was a book I read when I read in high school, some goofy-ass thing. It was called Help for Life, or Bodybuilding for Life, and it gave a basic overview of what weightlifting was and explained how to build an exercise grouping.
Do you do any Tough Mudders?
Nah, I don't do any of that.
Why not?
I don't know. It doesn't interest me. I just do it for myself. That whole team aspect, trying to relive your high-school years … I played high-school football, so what I do now is just for aesthetics.