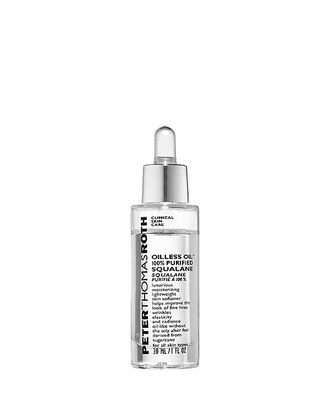 Despite all the renewed fuss about them in the past two years, face oils are "an O.G. beauty routine." But maybe you're entering the face-oil game late — you've heard a lot about this Notorious O.I.L., but you still aren't sure what the deal is. Consider Peter Thomas Roth's Oilless Oil to be your introduction to the game.
Despite its clunky oxymoron name, the Oilless Oil is a non-greasy moisturizer, in liquid form, that just happens to be contained in a dropper bottle. It's derived from squalane, one of the natural lipids (fats) found in our body, that aids in retaining moisture and decreases over time. (Aging: It gets everyone.) It's also found naturally in shark livers (which does not please animal activists), olives, and in this case, 100 percent sugarcane. But won't I break out from using a face oil? you wonder. No. Peter Thomas Roth has personally assured that his version of the oil is non-comedogenic and won't clog your pores, earning its oilless descriptor. It's non-grimy, light, sinks into your skin quickly, doesn't leave a filmy residue, and imparts a slightly radiant glow and softness to the face. Unlike most oils, which are so scented (heavy on the herbal) that they could be perfume/face-oil hybrids, this one is refreshingly scent-free. You'll need only a few drops (two or three) to pat and press into your face (do not rub), and you'll be on your way into this old yet new way of moisturizing. 
Peter Thomas Roth Oiless Oil, $38 at Sephora.