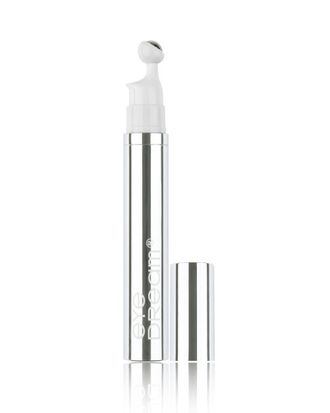 In beauty marketing copy, it's guaranteed that if you add the word French to anything, it instantly becomes more desirable. Beauty products you could find in the French equivalent of Duane Reade become "French pharmacy" products; anti-dandruff shampoo is re-billed as anti pellicullaire. An eye cream becomes a French eye dream.
While this cream will not give you visions of the Eiffel Tower or croissants, Talika's Eye Dream is a rich eye cream and mask in one, dispensed via a unique rollerball. The French know, as the Cut's Christina Han once said, given the choice between a tub of eye cream and a rollerball, always go with the rollerball. Hygiene aside, it minimizes product waste (just think of the hundreds of dollars in eye cream wasted on anti-aging your fingertips), and the cooling rollerball de-puffs and soothes eyes. With Eye Dream, you press down with the rollerball and the area floods with a blend of soy protein (increases oxygen consumption), Vitamin F (restores hydration), algae extract (acts as an emollient to soften the eye area), lime and orange blossom floral waters, lipo-dipeptides (an active ingredient that brings "comfort and softness"), and something called horse chestnut herbasol (Wikipedia tells me it's a large tree common to South Eastern and Central Europe). Rolling helps the product sink deeper into the skin, and the cream is rich enough to act as a mask, but also liquid enough to not be cakey and sit into under-eye wrinkles. After using this for a few days, my under-eye area looked like the equivalent of Kelly Ripa: perky and awake.
Talika Eye Dream, $57 at Dermstore.com.