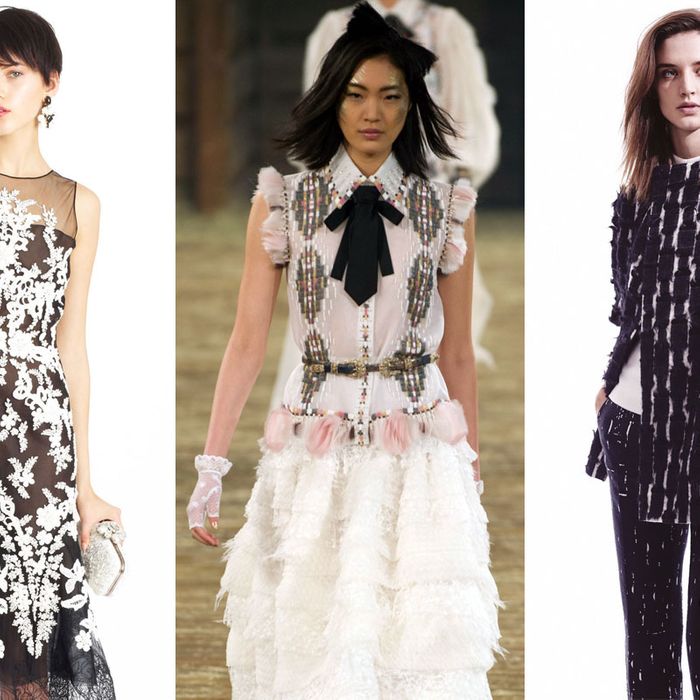 Pre-fall is in full swing, and Oscar de la Renta did not disappoint, opening with head-to-toe jewel-toned looks riffing on classic trench details, cashmere and angora coats, and all his hallmark ladylike silhouettes. But as always, it was the eveningwear component that delivered the megawatt red-carpet-worthy looks, with silver and gold floral threadwork, dripping fringe beading on a gold lamé dress, and a black tulle and chantilly lace dress with a white floral appliqué.

With petticoats reimagined in mille-feuille layers of raw chiffon and the like, it's difficult to parse where the Americana ends and where the French flourishes begin in Chanel's Metier d'Art collection. Lagerfeld has taken the vocabulary of America's manifest destiny of the nineteenth century; its fabled wild, pioneering spirit grounded in true Texan largesse, and applied it with Parisian legerdemain. Using Native American references wasn't the smartest tactic, but the technical details are no less stunning, and there's plenty of commercially viable pieces. The knit sweater with an optic pattern of a blown-up cowboy's bandana, or perhaps a kaleidescopic fleur-de-lis print, was a standout.
At Narciso Rodriguez, deft technique was used to create luxurious, graphic pieces, like a cocoon coat woven with various furs of different textures, in white, black, and navy.
Click to see all of the pre-fall 2014 collections:
Narciso Rodriguez pre-fall 2014 collection
Chanel Metier d'Art Dallas collection