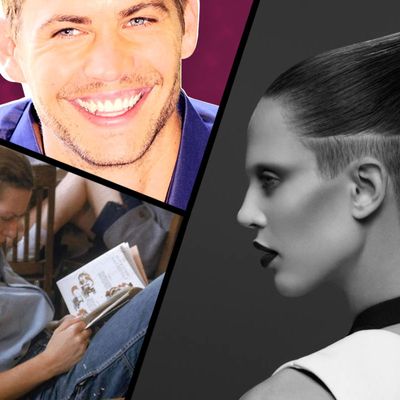 This week's pursuit of relevant, women-related topics led Cut writers to contend with "male" literature, experiment with OkCupid profiles, quantify heartbreak, and find the hidden women in photographs. Here are a dozen things we learned this week:
1. How do you measure a broken heart? Maureen O'Connor writes about translating heartbreak into data — call it the "quantified selfie."
2. Who knows what men want on OkCupid — men or women? Jillian Goodman asked her male friends and female friends to write two different OkCupid profiles for her. She got some dates!
3. How do you read, girl? An excerpt from n+1's collection of conversations on reading as a woman, No Regrets.
4.  What men are men attracted to? Just a bunch of hotties. Forty, to be exact.
5. What changes are afoot for Fashion Week? Allison Davis writes that some possible changes could save Fashion Week.
6. What celebrity photos had hidden meanings? Lots! Drew Barrymore wore coded nail polish; Cressida Bonas carried  a book on baby psychology; Beyoncé dealt with her temporary veganism by wearing pizza clothes.
7. Why do people balk when men say they're bisexual? Ann Friedman writes about a double standard.
8. Where's that woman? Nowhere to be seen, at least not in the work of photographer Patty Carroll or these Victorian baby pictures.
9. What does the most fantastical hair look like? Julia Ma spoke to Laurent Philippon about the soon-to-be-released 320-page tome entitled Hair: Fashion and Fantasy.
10. What was behind that outpouring when Paul Walker died? Ann Friedman addresses our sadness.
11. What do we really want for Christmas? An anonymous Cut list about what we actually, actually would like for Christmas.
12. What year is it? Oh, it's another effing year of the effing hipster.