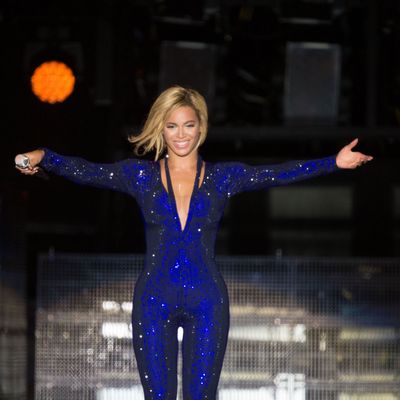 Photo: Samir Hussein/Getty Images
Congratulations to Beyoncé! She beat out Kim Kardashian and Rihanna to win Bing's most-searched celebrity of the year title, E! reports. What's Bing? It's like Google, but nobody really uses it. So earning the Most Binged Celeb in 2013 title is kind of like winning a Golden Globe — nice statue, but, uhhh, where's that Oscar, Bey? Even so, we'd like to take a moment to recall all of the moments that landed Queen B. this near-prestigious honor. 
In 2013, Beyonce gave a crazy-eyed performance at the Superbowl, made 577 first-person references in her documentary Life Is But a Dream, was Vogue's March cover girl, sparked pregnancy-or-awkward-belt? debates, depantsed for a sensual calendar, collaborated with H&M on the Mrs. Carter Collection, wore fake glittery nipples onstage for the Mrs. Carter Show World Tour (looked amazing), went to Cuba (looked amazing), got her weave stuck in a fan (looked amazing), got a pixie cut, then a bob, then grew out her haircut in record time, received the ultimate praise from Stevie Nicks, out-earned her husband, and … no. No more. I'm too tired. I can't keep typing. Beyoncé, give someone else at chance at that Bing title and take a break in 2014.