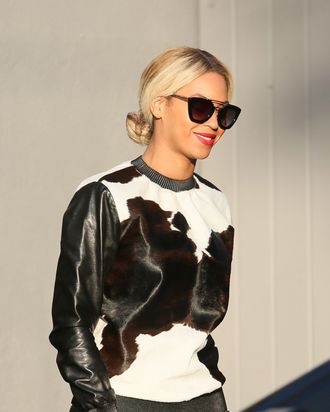 Beyoncé spent the majority of Week One of her vegan challenge wearing clothes that go against all the ethics of being an actual vegan. Last week, she wore a pizza outfit and a fur-and-suede combo. And this weekend, to have lunch at a vegan restaurant, she wore a cow-print sweater. Either Beyoncé lacks any kind of self-awareness, or she really wanted to piss off her new vegan brethren. But, wait — putting on a cow print sweater to dine on seitan is actually hilarious. Beyoncé! You made a joke! You're funny!
There is no doubt that Beyoncé is a singing, dancing, hair-flipping machine — emphasis on the machine part — but of all Bey's superhuman qualities, she seems to lack some basic human ones. Like an ability to make or take a joke. Until now. Perhaps her pepperoni crop top and cowhide sweater indicate a subtle, sarcastic, academic dissection of celebrity, an awareness of her own ridiculous actions, a subtle middle finger to us for caring. Really brilliant stuff here. And it's not just vegan hunger psychosis — she has endured many a punishing diet and never once displayed a drop of humor — the Beyoncé brand of hilarity emerged when she first started wearing fake nipple leotards onstage.
The 22-day challenge will probably end with Beyoncé wearing Lady Gaga's famed meat dress and a floor-length mink. PETA, you've been warned.