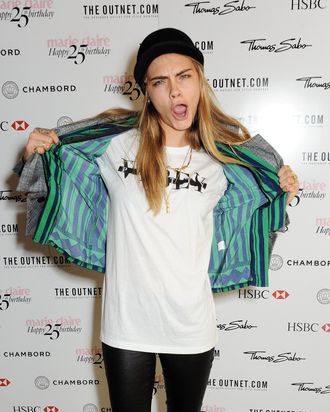 Photo: David M. Benett/Getty Images
Tumblr just unveiled its year in review, which includes fun stats, like top nail art posts (apparently SpongeBob-inspired tips were big this year?), most reblogged actresses (Jennifer Lawrence, of course), and top Anime & Manga (what?). In the most reblogged model category, Cara Delevingne came out on top, which is no surprise, since this is the year of Cara Delevingne. Joining her on the list are fellow Victoria's Secret models Miranda Kerr, Candice Swanepoel, Jourdan Dunn, and Adriana Lima, as well as the usual (wingless) suspects, Kate Moss and Tyra Banks.
The most reblogged menswear posts included a shot of an attractive man in Warby Parker specs and instructions on how to tie a tie. As for top actors of the year? Sherlock's Benedict Cumberbatch came in at No. 1. So get thee to Tumblr people, so we can help Ryan Gosling earn a spot on the list for 2014.