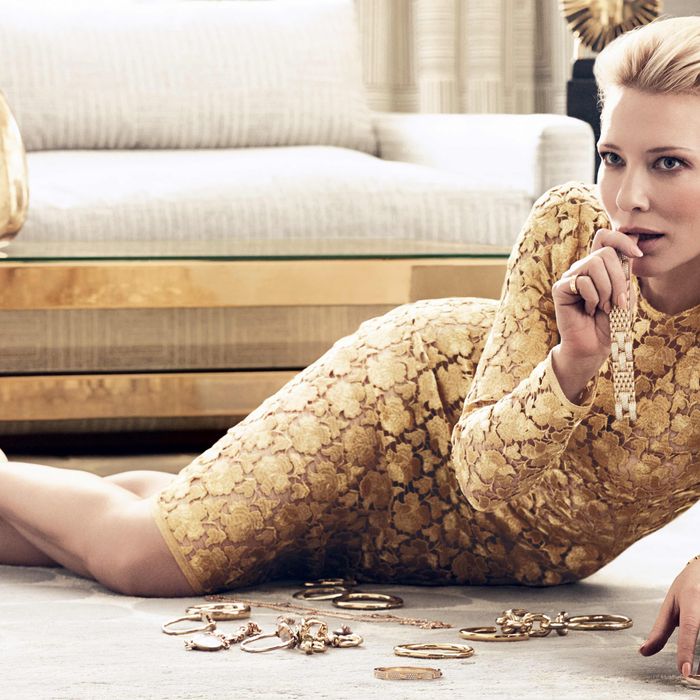 Photo: VOGUE/Craig McDean
Cate Blanchett looks stunning and modern in Céline on the cover of the January issue of Vogue. (Looking as stunning as the last time she was in Vogue, and the three times before that.) She looks gorgeous and sultry in a gold Dolce & Gabbana sheath in her Craig McDean–shot spread that accompanies the cover story, just like the time Vogue styled her in a gold dress in 2009. We get it, Cate Blanchett is amazing, she's a Vogue golden girl, but she is not, as the interview reveals, a very considerate theatergoer:
"It's Cate," she says, as if that gravelly voice could be anyone else's. She tells me that her driver, Peter, is "driving like a demon," but that she is "realistically, 25 minutes out." Curtain is in fifteen minutes, I say. "I've been trying to see this play for weeks," she says. "This is the story of my life." Pause. "Do they admit latecomers?" I read the sign to her. "Oh, dear. Is there an intermission?" Yes, I say. "Well, that's a bit churlish of them." We agree that I will stay put and she hangs up.

After a few minutes, I head for the box office to tell the shy young girl that my late date is Cate. Her eyes widen and she scurries off. Within seconds, the stage manager, a can-do woman with a headset, appears in front of me. "How late is she?" Five minutes, I lie. "I will hold the curtain for as long as I can," she says. Ten minutes later, Blanchett comes bounding up the steps, two at a time, and we are hustled to our seats without even saying hello. As the lights go down, she puts her arm around my shoulders, gives them a good firm squeeze, and calls me "Ace."
Once she finally makes it, writer Jonathan van Meter finds that Blanchett is an "incorrigible fidget," who drops her engagement ring, loudly, during the first act. But naturally, it's fine! In Vogue world, noisy and late is just charming and Chaplin-esque.