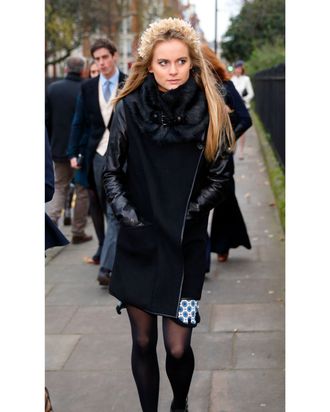 Photo: Max Mumby/Indigo/Getty Images
Prince Harry's girlfriend, Cressida Bonas, attended a wedding in Chelsea without her man this weekend, as Harry is still trekking through colder climates. In place of a boyfriend, Bonas was accompanied by fascinating headgear.
Rather than something traditional — like a hat, or nothing — Bonas opted for a headband that appeared to be crafted from crepe paper or carefully selected beige leaves. It is somehow both crumbled and erect. It looks a little daring and a little bohemian, and seems certain to have produced a rich rustling sound in the wind, which is winter's ultimate accessory.