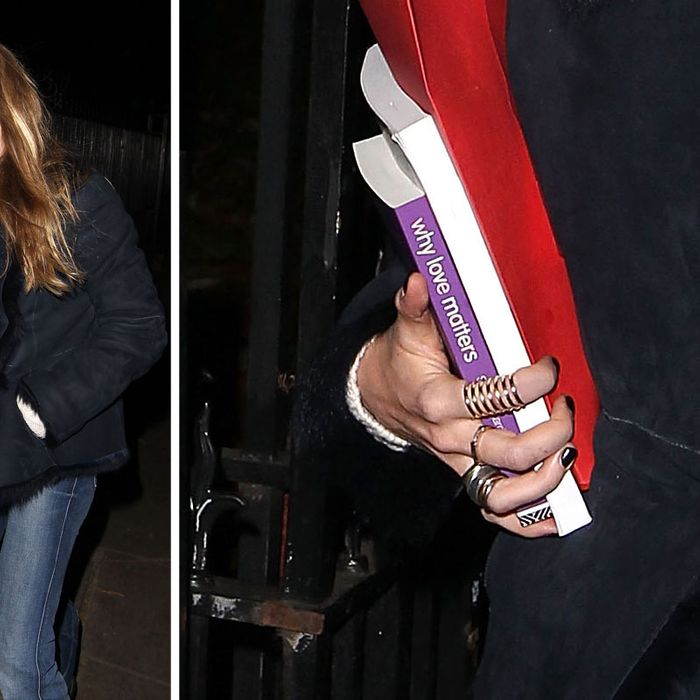 Cressida Bonas, the cool-girl girlfriend of Prince Harry, was photographed arriving at a Christmas carol service in London yesterday with a stack of books, a stack of rings, and a big red folder. The book facing the camera was called Why Love Matters. It holds a multitude of meanings.
Why Love Matters is not actually a book about romance and wooing. It's a semi-academic psychological examination of why a baby's initial exposure to intimacy and love helps to develop his brain.
So why is Cressida Bonas accessorizing with nonfiction baby books? Let us theorize.
• She's carrying the baby book to fool Harry into thinking she's pregnant, because the couple just loves playing psych! with each other via paparazzi snaps. (He's on some wild, two-week trek through the South Pole. It's really an ideal time for long-distance mind-games.)
• She's wielding the book to mess with the queen. Next, she'll be walking in with Tropic of Cancer or something shocking to frighten QEII out of her sensible shoes.
• Alternatively, Queen Elizabeth II gave Bonas material about child development so that she could begin to prepare herself in case she's obliged to produce a future second-fiddle royal babe.
• She's studying up to become a teacher: The other book she was carrying was called Perspectives on Play, a teaching guide.
• Bonas wants to avoid boredom. She's going to a caroling event. She straight up needs some better reading material than holly-jolly nonsense. She plans to tuck that book into the huge red folder in front of some "Good King Wenceslas" and sing about Good King Cortisol and the frontal cortex.
• She's delivering the book to Kate Middleton, in anticipation of a complicated and judgmental gifting power play. Here, Cressida, I wrapped up some scrunchies for you. I heard crushed velvet is your thing.
• She has a general interest in developmental psychology, which is generally an interesting subject. Eh. Whatever.
From the perspective of someone who's always trying to avoid organized drudgery masked as a group merriment, I think that she's simply trying to keep herself entertained. But gifting power plays seem like a very royal activity, so that theory might hold water.