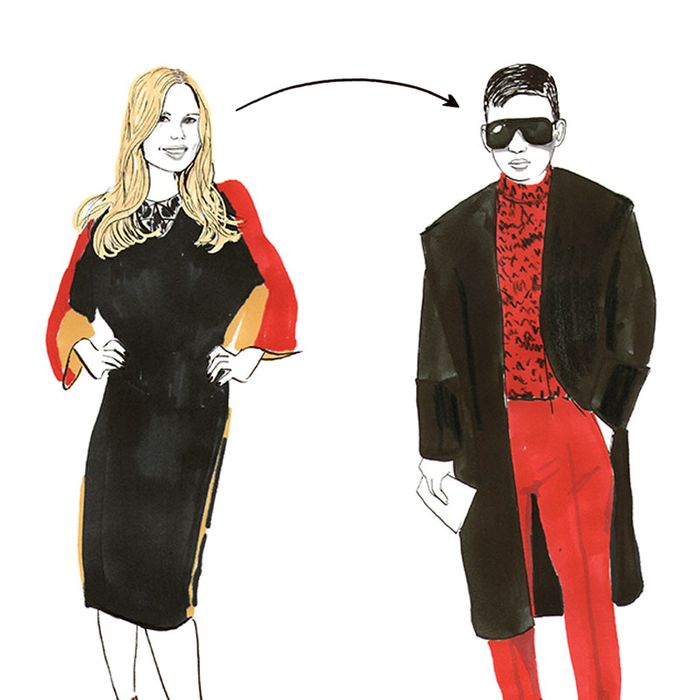 For a festive countdown to Christmas, the Cut brings back its Secret Santa game — but instead of showering ourselves with gifts, we enlisted fourteen fashion-world influencers and randomly assigned them each a Secret Santa as stylish as they are. We asked a mix of fashion editors, creative directors, and power bloggers to select two presents for their Secret Santa recipients: an "affordable" gift (something roughly $30 or less) and an "aspirational" one (what they'd purchase if money were no limit). The gifts have all arrived safely under our (virtual) Christmas tree, and the time for unwrapping has begun.
On day six of our Secret Santa unveiling, we find out what power blogger Bryan Boy received. Zoom into the image above to see the chic gifts he received from his Secret Santa, Mary Alice Stephenson. Watch his reaction to the "affordable" gift in the video below.
Plus, the messages from Mary Alice to Bryan Boy:
Affordable Gift
Heifer International Gift of Honeybees, $30
"What do you give the boy who has everything? A chance to GLAM4GOOD! Sometimes it's the smallest gifts that make the largest impact. Since Bryan Boy is a Queen Bee and all about buzz, I decided my $30 dollar gift to him would be a beehive! A healthy beehive can double fruit and vegetable yields of small farms and turn a family's struggle into a lifetime of opportunity. I'm sure if he wanted to visit the hive we can get him a one-of-a-kind beekeeper uniform from McQueen."
Aspirational Gift
Free Arts Day NYC
"My second gift for Bryan Boy is also very GLAM4GOOD. It's his very own Free Arts Day for 6K. A Free Arts Day (FAD) means Bryan Boy can be a positive fashion role model to the lives of 75 underserved children. Each year, FAD programs are run directly in schools, social-service agencies, homeless shelters, and housing facilities across New York City. These daylong art festivals pair youth with 75 Free Arts NYC Volunteers as they rotate through theme-based art projects and enjoy lunch and a culminating live performance. Basically, Bryan Boy gets a chance to be a very fashionable Mr. Rogers to a group of 75 kids!! Roberto Cavalli did a Free Arts Day with me once and we made winter scarves with the kids!!!"
Tune in tomorrow to see who receives the next gift. Happy holidays!
Illustrations by Clare Mallison.