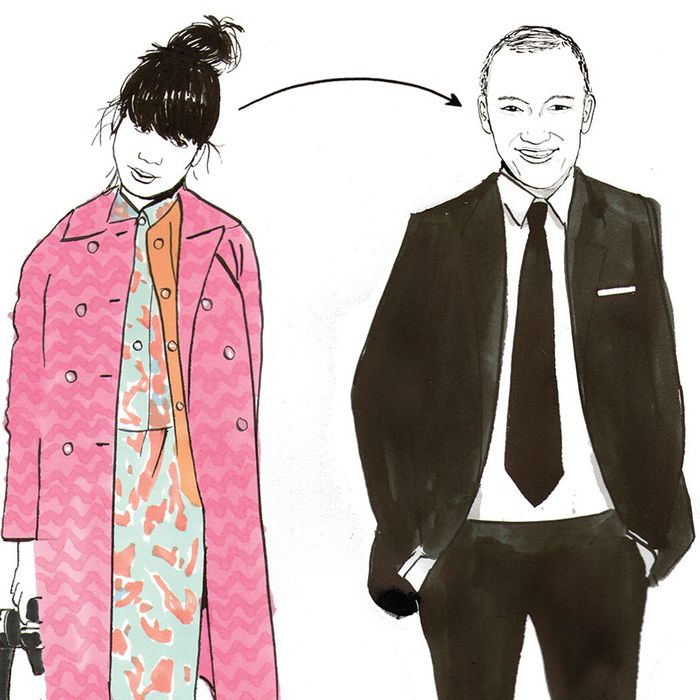 For a festive countdown to Christmas, the Cut brings back its Secret Santa game — but instead of showering ourselves with gifts, we enlisted fourteen fashion-world influencers and randomly assigned them each a Secret Santa as stylish as they are. We asked a mix of fashion editors, creative directors, and power bloggers to select two presents for their Secret Santa recipients: an "affordable" gift (something roughly $30 or less) and an "aspirational" one (what they'd purchase if money were no limit). The gifts have all arrived safely under our (virtual) Christmas tree, and the time for unwrapping has begun.
On Day Four of our Secret Santa unveiling, we find out what Joe Zee, creative director of Elle, received. Zoom into the image above to see the marvelous gifts he got from his Secret Santa, Susie Lau of Style Bubble,  and watch his ecstatic reaction to the "affordable" gift in the video below.
Plus, the messages from Susie to Joe:
Affordable Gift
"Is This The Place They Call Paradise" Art Print by Jesse Treece, $25
"I know it's a bit risky to try and predict Joe Zee's taste in art, but I do think at the very least he'll be intrigued by this odd but beautifully composed collage by Seattle-based artist Jesse Treece.  Interplanetary pool-hopping is the FUTURE!!" – SL
Aspirational Gift
Mr. Hare Freud Blue Boots, £650
"Joe Zee strikes me as a rather smart fellow as he's always suited and booted whenever I see him at shows, so I thought he might appreciate these beautiful boots in an unusual navy colour by British shoemaker Mr. Hare. They're called 'Freud' boots – read into that what you will …" – SL
Tune in tomorrow to see who receives the next gift. Happy holidays!
Illustrations by Clare Mallison.