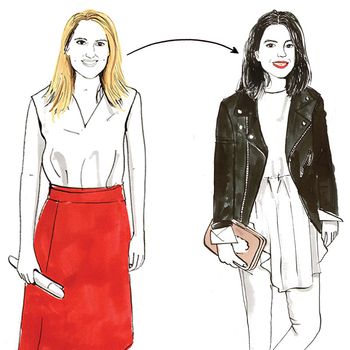 For a festive countdown to Christmas, the Cut brings back its Secret Santa game — but instead of showering ourselves with gifts, we reached out to fourteen fashion-world influencers and randomly assigned each of them a Secret Santa as stylish as they are. We asked a mix of fashion editors, creative directors, and power bloggers to select two presents for their Secret Santa recepients: an "affordable" gift (something roughly $30 or less) and an "aspirational" one (what they'd purchase if money were no limit). The gifts have all arrived safely under our (virtual) Christmas tree, and the time for unwrapping has begun.
On Day Two of our Secret Santa unveiling, we find out what Leandra Medine (a.k.a. the Man Repeller) received. Zoom into the image above to see the marvelous gifts she got from her Secret Santa, Jane Larkworthy, Beauty Director of W Magazine, and watch her dance-happy reaction to the "affordable" gift in the video below.
Plus, the messages from Jane to Leandra:
Affordable Gift
Zulu Telephone-Wire Bangle, $24.99
"I hear Leandra loves a good 'wrist party,' so I'd give her a flashy Zulu telephone wire bangle ($24.99, giftswithhumanity.com). I love the vibrant colors they come in, but — best part — they're made by an urban-based community arts center in South Africa, where people can learn a craft so they can make money and accomplish great things, like sending their children to college!." – JL
Aspirational Gift
An Hermès Ostrich-Skin Clutch
"If money was no object, I'd get Leandra an Hermès ostrich-skin clutch to replace her grandmother's faux one. She used it as a hurl receptacle during her semester in Paris (chapter six of her eponymous nom-de-blog book — one of my favorites), and anyone who is that courteous — not to mention quick-thinking — to a Paris taxi driver during a moment of such drunken delirium and misery deserves the real thing. I once found myself in the same situation in a New York cab, but chose a less impenetrable sartorial item. Damn."
Tune in tomorrow to see who receives the next gift. Happy holidays!
Illustrations by Clare Mallison.