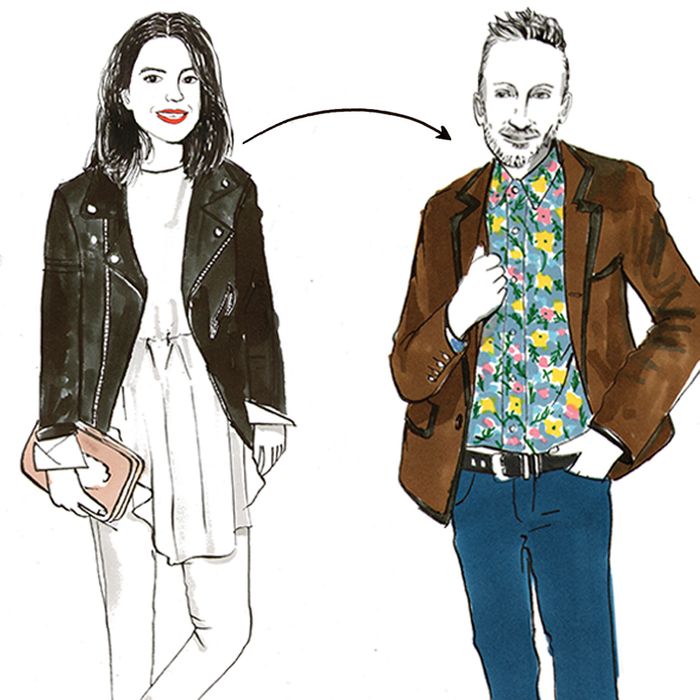 To kick off a festive countdown to Christmas, the Cut decided to bring back its Secret Santa game — but instead of showering ourselves with gifts, we reached out to fourteen fashion-world influencers and randomly assigned each of them a Secret Santa as stylish as themselves. We asked a mix of fashion editors, creative directors, and power bloggers to select two presents for their Secret Santas: an "affordable" gift (something roughly $30 or less) and an "aspirational" gift (what they'd purchase if money were no limit). The gifts have all arrived safely under our (virtual) Christmas tree, and the time for unwrapping has begun.
On Day One of our Secret Santa unveilings, we start with Simon Doonan, creative ambassador of Barneys. Zoom into the image above to see the marvelous gifts he received from his Secret Santa, Leandra Medine (a.k.a the Man Repeller), and watch his charming reaction to his "affordable" gift in the video below.
Plus, the messages from Leandra to Simon:
Affordable Gift
Asylum by Simon Doonan, $16.41
"As a gift to Simon Doonan, I would buy myself another copy of Asylum. Obviously in hopes that THAT copy is what catapults him to Times Bestseller success." – LM
Aspirational Gift
A Liberty print factory
"If money were no object, I would buy him the factory where Liberty prints are produced so that he could OFFICIALLY own rights to every single one of the floral print shirts that he wears day in and out. I'd obviously expect nothing in return other than a set of purple-based floral shoe laces." – LM
Tune in tomorrow to see who receives the next gift. Happy holidays!
Illustrations by Clare Mallison.