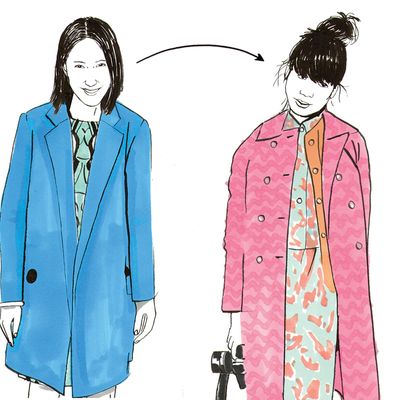 For a festive countdown to Christmas, the Cut brings back its Secret Santa game — but instead of showering ourselves with gifts, we enlisted fourteen fashion-world influencers and randomly assigned them each a Secret Santa as stylish as they are. We asked a mix of fashion editors, creative directors, and power bloggers to select two presents for their Secret Santa recipients: an "affordable" gift (something roughly $30 or less) and an "aspirational" one (what they'd purchase if money were no limit). The gifts have all arrived safely under our (virtual) Christmas tree, and the time for unwrapping has begun.
On day ten of our Secret Santa unveiling, we find out what Susie Lau of Style Bubble received. Zoom into the image above to see the gifts she got from her Secret Santa, Lucky editor-in-chief Eva Chen.
The messages from Eva to Susie:
Affordable Gift
Custom Laser Cutout of Susie Bubble, $22
"I would like to commission a laser cutting in hot pink plexiglass of Susie's silo doing a peace sign."
Aspirational Gift
A New York City Flat
"I would buy her a New York city "flat" so that I could see her more often. Is that selfish? Of course, the closet would be filled with bubble-licious clothes from Mary Katrantzou, Peter Pilotto, etc. It's all about the double wardrobe."
Tune in tomorrow to see who receives the next gift. Happy holidays!
Illustrations by Clare Mallison.