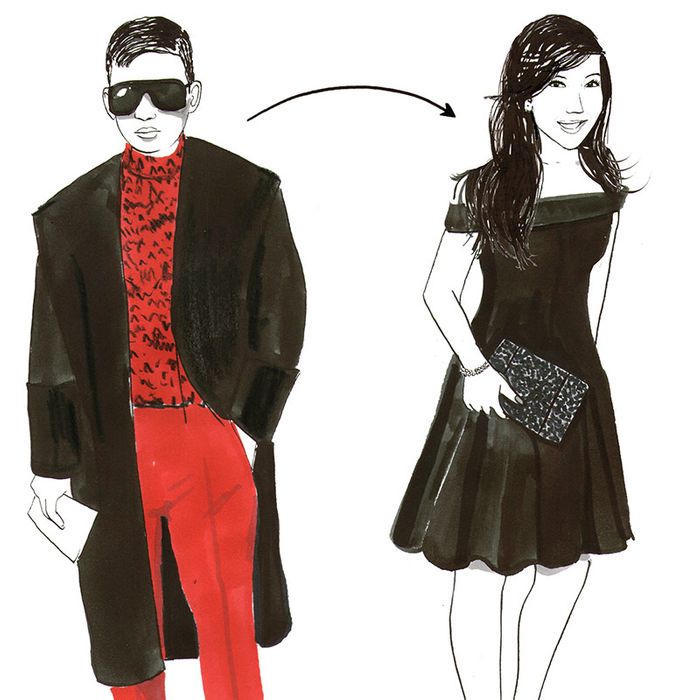 For a festive countdown to Christmas, the Cut brings back its Secret Santa game — but instead of showering ourselves with gifts, we enlisted fourteen fashion-world influencers and randomly assigned them each a Secret Santa as stylish as they are. We asked a mix of fashion editors, creative directors, and power bloggers to select two presents for their Secret Santa recipients: an "affordable" gift (something roughly $30 or less) and an "aspirational" one (what they'd purchase if money were no limit). The gifts have all arrived safely under our (virtual) Christmas tree, and the time for unwrapping has begun.
On day eight of our Secret Santa unveiling, we find out what Tina Craig (a.k.a. Bag Snob) received. Zoom into the image above to see the lovely gifts she got from her Secret Santa, Bryan Boy. Watch her sweet reaction to the "affordable" gift in the video below.
Plus, the messages from Bryan to Tina:
Affordable Gift
Grizzly Bear Paw Slippers, $19.99
"Don't let her pint-size exterior fool you. My friend Tina has always been a momma bear figure to me over the years, which is why I thought these grizzly bear paw slippers are perfect."
Aspirational Gift
A Private Mongolia Gobi Desert Tour with Abercrombie & Kent
"What do you give to a woman with a very impressive collection of shoes, bags, jewelry and furs? A custom, private trip to desolate Mongolia! A go-getter like Tina deserves a far-flung trip to renew her body, mind, and soul."
Tune in tomorrow to see who receives the next gift. Happy holidays!
Illustrations by Clare Mallison.