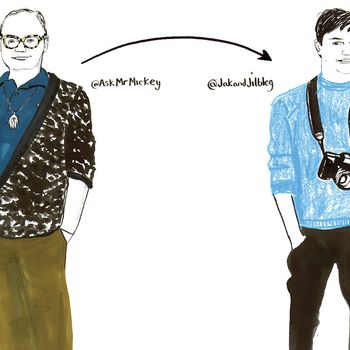 For a festive countdown to Christmas, the Cut brings back its Secret Santa game — but instead of showering ourselves with gifts, we enlisted fourteen fashion-world influencers and randomly assigned them each a Secret Santa as stylish as they are. We asked a mix of fashion editors, creative directors, and power bloggers to select two presents for their Secret Santa recipients: an "affordable" gift (something roughly $30 or less) and an "aspirational" one (what they'd purchase if money were no limit). The gifts have all arrived safely under our (virtual) Christmas tree, and the time for unwrapping has begun.
On day eleven of our Secret Santa unveiling, we find out what photographer Tommy Tom received. Zoom into the image above to see the gifts he got from his Secret Santa, Paper magazine's Mickey Boardman.
The messages from Mickey to Tommy:
Affordable Gift
Mickey Mouse Crocheted Camera Lens Cover, $10
"A street-style photographer needs to stick out from the crowd and nothing says 'I get high fashion' like a Mickey Mouse crocheted camera lens cover!"
Aspirational Gift
Twiggy, hair by Ara Gallant, Silver Gelatin Print by Richard Avedon
"More than anything a photographer needs inspiration and what duo could be more incredibly inspirational to a photographer than the legends Richard Avedon and Twiggy?"
Tune in tomorrow to see who receives the next gift. Happy holidays!
Illustrations by Clare Mallison.