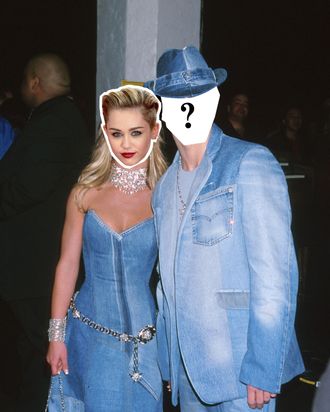 Photo: Photos: Getty Images
Miley Cyrus knows the perfect boyfriend is out there. She put her wants and desires for a boyfriend into the Twitterverse last night, secret style.
He will help tug her hair to help it grow. He will be as fascinating as she is. Most important, he will understand the importance of matching Miley and Me outfits. He will also understand that boyfriend jeans means putting on some big-boy Canadian tuxedo pants and standing by his woman at the 2001 American Music Awards in proud jean-on-jean for all to see. 
Tattoos, owl-engraved diamond rings, come and go. But true Commitment in the celebrity world means matching outfit red carpet pictures live forever. Kimye knows that. Your move, Liam.