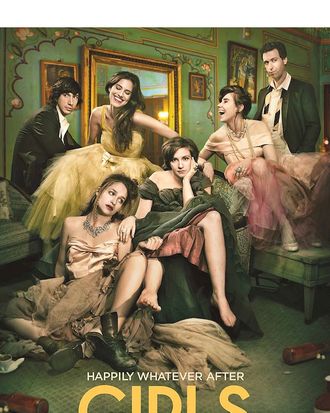 In a departure from the show's typically schlubby vibe, the season three poster for Girls featured a notably dolled-up and sophisticated portrait of Lena and the Gang in a trashed hotel room, wearing appropriately disheveled eveningwear, like a Gossip Girl prom party gone right. Naturally, everything in the Girls universe has lots of feelings and oodles of meaning, so Fashionista interviewed Shirley Kurata, the stylist for the shoot, to explain her thinking behind the unexpected makeover.
Just as the characters' chaotic, financially slippery, twentysomething lifestyle would dictate, the vintage gowns were meant to be a subtle nod to an antithetical Cinderella story, with each individual dress revealing an element of the character's psyche.
Oh, eveningwear Rorschach! Fun game. Here's what we learned from Kurata: Hannah would totally take off her shoes and wear an unexpected color like gray to a formal event. Marnie's yellow tulle "evoked an air of Blanche Dubois," which probably doesn't bode well for her season-three story arc. Shosh is just as girly as ever, and Bohemian Jessa continues to prove that she is one with the actress who portrays her. Of course, Jemima Kirke is wearing her own boots in the photo. What does it all mean?!