Young people in South Korea have a new hobby: It's live-streaming themselves gorging on enormous, sumptuous dinner feasts. Kotaku reports it's called mok-bang, which is a portmanteau of the Korean words for eating and broadcast, and young folks in South Korea are totally into it. They broadcast their meals (from bunker-looking settings) to thousands of viewers a night. It's a really attractive online performance opportunity for people that eat food, wear clothes most of the time, and don't want to have sex on camera.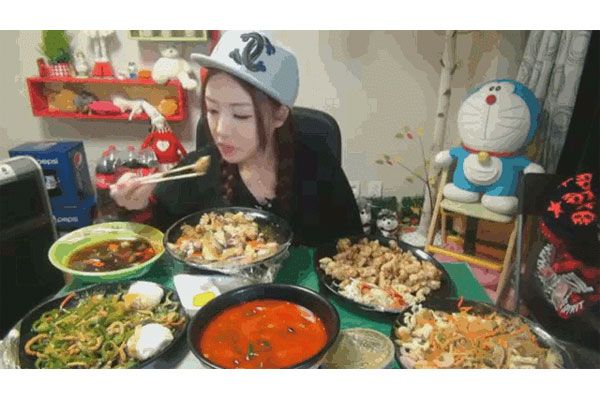 Mok-bang has bred chrewing stars. One known as the Diva eats for approximately two hours each night, streaming her meal to thousands of viewers and consuming a huge amount of food, like 30 fried eggs, plus crab legs, or two medium pizzas. She estimates she spends between $3,000 and $6,000 a month on food, and that she's gained 20 pounds since she started mok-bang.
Perhaps it is an unsung skill to chew sexily. After all, these are the visuals of a dinner date; clearly, something about watching others eat appeals to human mating instinct. From these videos, though, it does seem that the huge spread of delicious delectables is a big appeal of mok-bang. The happy abundance of foodstuffs on view in mok-bang might have a calming, Food Network—like effect. Then again, maybe it's just an amazing and under-appreciated feat to consume a bazillion fried eggs and then move along to some crab legs.