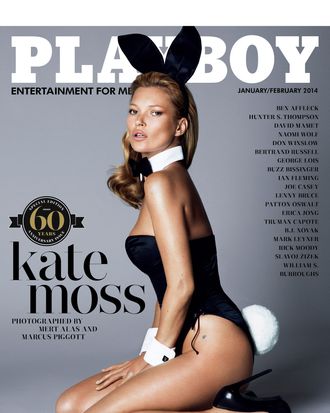 Photo: Mert Alas and Marcus Piggott for Playboy
We've been talking about Kate Moss's Playboy photos for so long now, it's like we've already seen them. But finally, this week, Playboy's 60th anniversary issue featuring Moss as covergirl hits newsstands. The eighteen-page spread was shot by Mert Alas and Marcus Piggott and features a soon-to-be 40-year-old Moss in various stages of Playboy repose: with bunny ears, in a bunny suit, and of course, tastefully, completely naked. There's also a fun Q&A with writer Tom Jones in which Moss is asked to play Marry, Fuck, Kill with Marc Jacobs, Naomi Campbell, and Piers Morgan. ("Oh, it's really easy. Kill Piers, marry Marc, fuck Naomi.") Good thing she didn't choose to kill Marc: The desiger is creating a line of limited-edition T-shirts to commemorate this legendary cover shoot.

See a few of the photos below, and pick up the full issue on December 6.