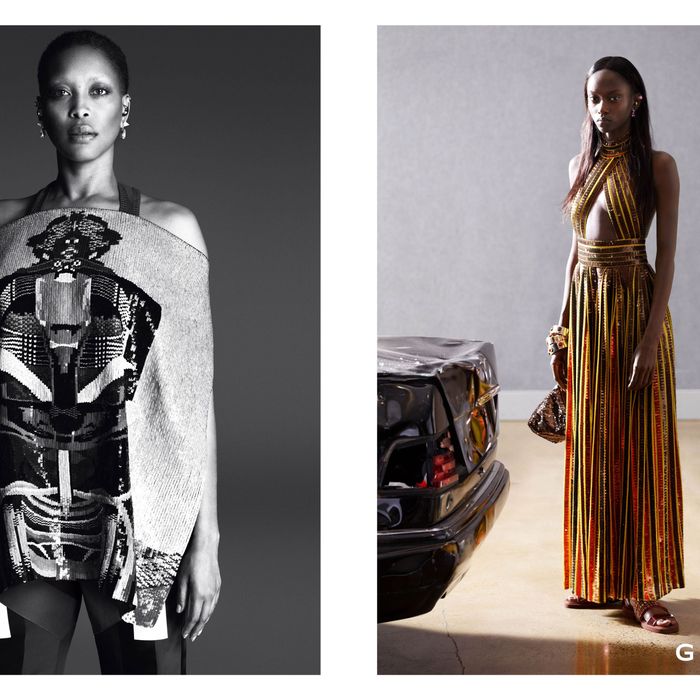 Photo: Courtesy of Givenchy
Riccardo Tisci has tapped singer Erykah Badu to be the face of Givenchy's spring 2014 campaign. This news has been getting major buzz since exclusive images were revealed on Style.com. It's an inspired and refreshing choice: Badu is cool and gorgeous, a fashion icon in her own right, and just crazy enough to be captivating. Also, of course, because every time a black woman is cast in a high-fashion campaign, it's a major news item.
The casting comes just after a hot debate of the highly publicized petition against homogeneity on the runway. In these discussions, Tisci has always been resistant to scathing allegations of racism because he is one of the few designers that is lauded for his casting choices and keen eye for new talent — like casting all Asian models for his 2011 campaign, and casting a transgender model, Lea T, in 2010 — and is the first to give himself credit when talking to Style.com.
"There was a lot of talk this season in fashion. Me, I was one of the persons who ended up not being touched by this. I discovered Joan Smalls, I discovered Maria [Borges]. I discovered a lot of black girls, and I've been always supporting them. For me, I grew up in a family and I grew up in a culture, an education, that we all are the same."
Tisci is credited with casting Joan Smalls in her first major runway show in 2010, and gave Maria Borges her big break in his fall 2012 couture show, among others. He may indeed be better than most, but take a quick look at his numbers the past five seasons, and he's cast 38 models of color out of 225 total. While he only cast 2 models of color out of 40 total models in 2011, by spring of 2014, he had cast 17 out of 50.
Still pretty low, but we're hoping the rest of the world catches up to Tisci's awareness. "People can be so avant-garde, so advanced, but actually not, because people are still making differences between skin color," he says.