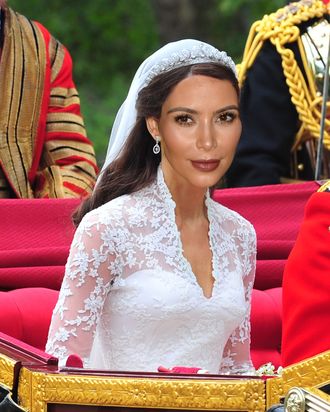 Every day there's a new rumor about Kim Kardashian and Kanye West's wedding, a.k.a the most important, lavish, terrifying event of our time. While most of the amazing tidbits that have come out have already been deemed false by the pairs' reps, when it comes to Kimye, anything is possible. We've rounded up all of the best pieces of gossip surrounding the nuptials so you can relish the ridiculousness, prepare yourself for the best/worst, or know exactly what you're actively pretending to ignore.
Kim will wear a copy of Kate Middleton's Alexander McQueen royal wedding dress.
The exact look she's going for is "demure princess," because doesn't everyone immediately think demure when they hear the name Kim Kardashian?

Of course, she'll also wear a tiara.
Only fitting if you're "American Royalty," and because you can only really pull off a diamond hippie headband once.

Which will go great with those bejeweled Maison Martin Margiela masks Kanye wants them to wear at the altar.
Naturally.

Kanye has already asked Givenchy's creative director Riccardo Tisci to make Kim's gown.
Which makes sense, since Tisci's already made her a custom couch dress for a big event.

Victoria Beckham will be designing the bridesmaids' dresses.
Does she know yet?
The wedding will take place at Versailles.
Because Kanye wants a big wedding and, again, royalty.

Actually, maybe it's taking place on the island of Capri.
And will last two weeks and cost half a mil for the venue alone.

Just kidding, but it will definitely be somewhere "far, far away."
"Europe is not confirmed, we want somewhere far, far away, but we don't know where."

Like New York, Miami, and Los Angeles.
Because did it even happen if it's not captured on Keeping Up With the Kardashians?

But there might be a Christmas elopement.
Really, who knows what Kanye's got up his sleeve?

But Brody Jenner probably won't be there.
Because he didn't get an invite to the engagement party … and doesn't seem bitter about it at all!

Bruce Jenner will walk Kim down the aisle.
Even though he's split with her mom, Kris.

There will be fighter jets.
Nothing says I love you like fighter jets on your wedding day.

Unless you have twelve trained Pekingese dogs preceding you down the aisle.
Which is apparently part of Ye's vision.

There could also be elephants to carry the bride and groom, and fire-eaters, acrobats, and special musical guests to entertain everyone else.
Why go for intimate when you could have elephants?

The color scheme is black, diamonds, and golds.
A black-and-white wedding is so 2011.

Kanye West is planning the entire affair himself.
Kim is reportedly happy and not happy about it.

Thankfully, he's hired five assistants to help him.
Because who has the time to look into training those Pekingese?

There will be a prenup.
And that is the only rumor we do believe.