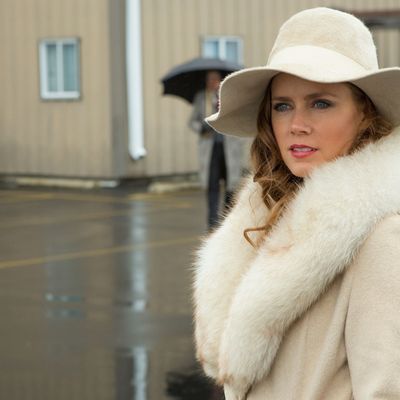 Photo: Francois Duhamel/Annapurna Productions LLC
There is so much hair in American Hustle, David O. Russell's new seventies con-man film, that it should be renamed American Hair-stle. A mop of hair sits on top of Jeremy Renner's head like a domesticated gray pigeon. Bradley Cooper's Timberlake ramen curls are more tightly wound than Tom Cruise. Jennifer Lawrence's know-it-all housewife hair is so high that it could smuggle Peeta out of The Hunger Games. And the film's first five minutes look like a how-to comb-over tutorial that Christian Bale created for Donald Trump.
As Bale frequently says in the movie, the key to a successful con is "starting from the feet up," and the film's characters use beauty to construct their stories and identities, all the way to the tip of their hair. Throughout the movie, the characters' emotional states may flounder, but Lawrence's hard-tipped red nails remain as sharp as her heart, Bale's comb-over doesn't move, and Adams maintains her posture, since the film's wardrobe department apparently couldn't afford boob tape.
While none of us will be rushing to replicate Cooper's roller set anytime soon, the Cut interviewed the film's makeup-department head, Evelyne Noraz, and hair-department head, Katherine Gordon, to learn about beauty's role as a supporting character in the film, how Bale recovered from seven months of a comb-over (made entirely of his own hair, no wig,) Jennifer Lawrence's high hair, and why the men spent twice as much time in the makeup chair was the women.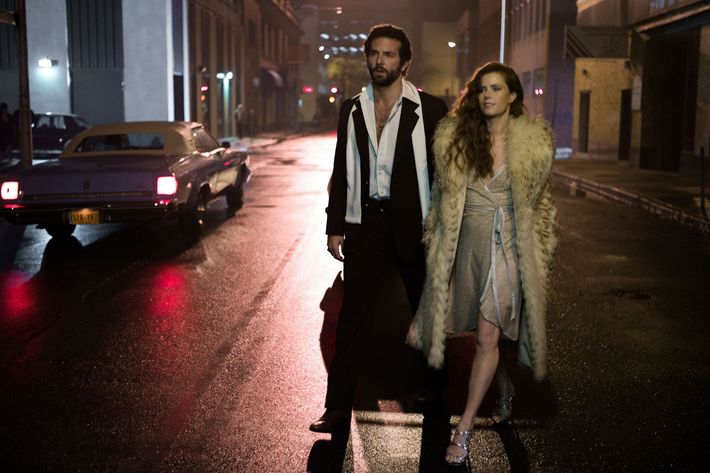 Makeup Department Head, Evelyne Noraz: David O. Russell had a definite idea of what he wanted, but like most directors, he didn't know how to explain it until he saw it. We did maybe three to four makeup tests and went from there. We did have a lot of meetings, more meetings than I've ever had. We didn't start shooting till March, but we started these tests in December and January.
David asked for seventies glamour. To be honest, we were happy with the first makeup test for the women. We used all modern cosmetics, because a lot of makeup has been seventies-inspired. After that, it became more about the men. We consulted a lot about the size of the sideburn, mustaches, and facial hair. The men ended up being in the hair-and-makeup chair about three hours, and the women about one.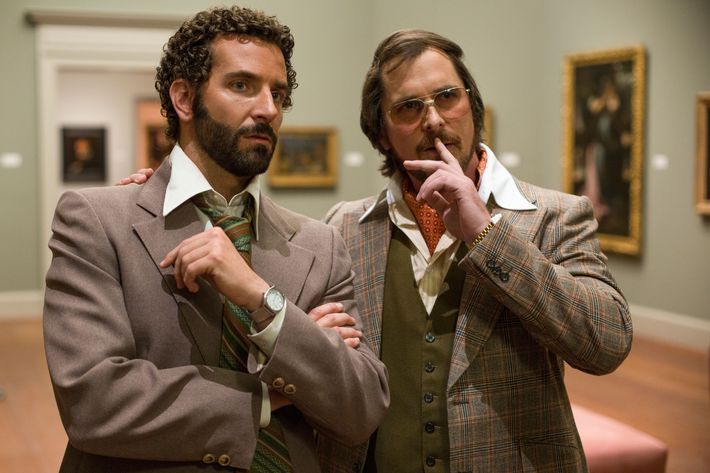 They did a lot with Bradley Cooper. They made him darker. He was probably in there every day for two to two-and-a-half hours. Lori McCoy-Bell rolled his hair with perm rollers, he was under the dryer every day. Bradley would come in the trailer, long and shaggy with a darker beard, and then leave every day with permed hair. He had his own crew of makeup and hair.
Christian [Bale] was very involved with creating his look, more so than any other actor. He asked to have more hair on the chest, to create a full hairy chest. His thought was that when men lose their hair on top, they have more chest hair. It was great. It was not my idea at all. We spent four hours on the chest hair. They would call us and say, "How long has Christian been in there?" but he didn't care, he wanted it to be perfect.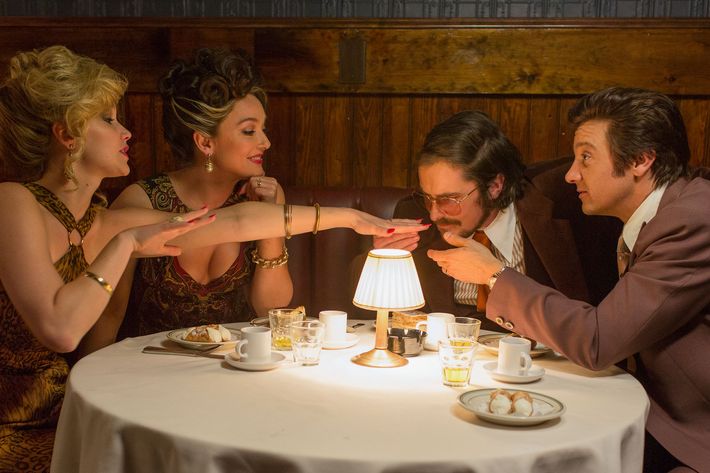 Jennifer Lawrence came to us late in the game. Because it was her, David O. Russell had a different take on the character. When I initially read the script, Jennifer's character was supposed to be more mousy and not so glamorous. Then she became this creature with so much makeup — it's a bit sloppy sometimes, not so well blended, a little over the top. He wanted to do even more with her, like greasier hair. I had to show him that wouldn't have ever happened. We all thought she was going to be an older actress. Jennifer also decided that she wanted long, red nails. So we found a manicurist to do her nails. She was really on board. Every time I would suggest something, she would be like, "Yeah, yeah, that's great! Let's do that."
Hair Department Head, Katherine Gordon: Working on American Hustle was fast and furious. Five months before I even started, they already had done a costume test and started Photoshopping Christian into comb-overs. Amy and Christian change their hair at least ten times in each scene. It was very hard on the actors and myself. I was changing it left and right every 30 seconds.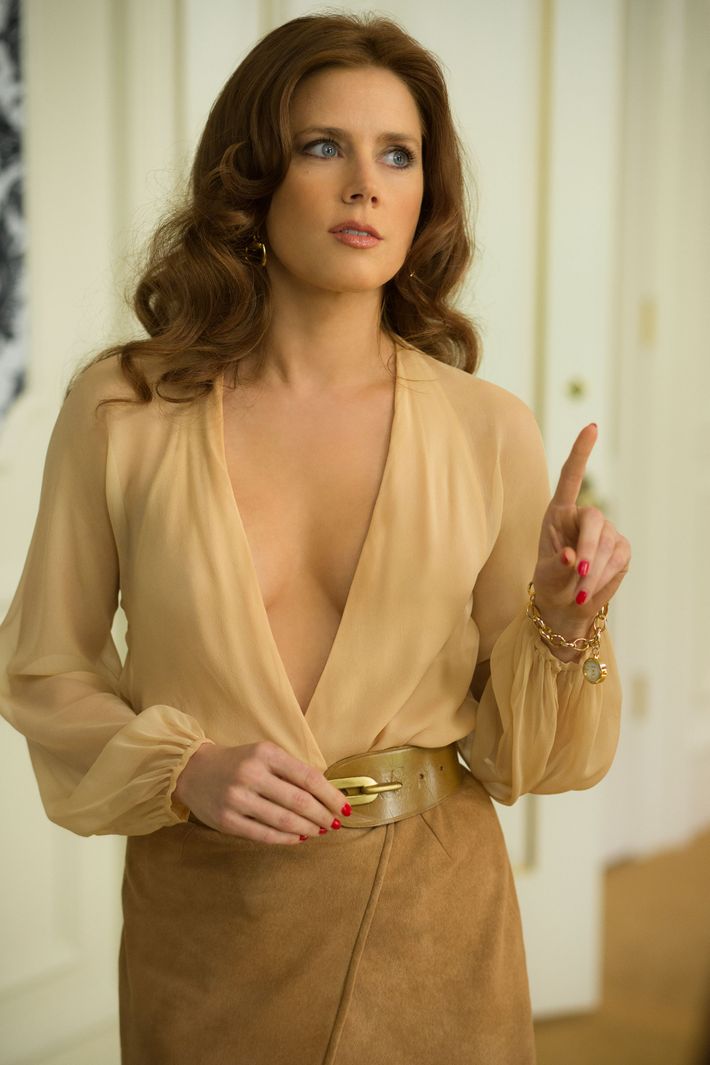 Christian's hair was all of his real hair, except for a small hair strip we used once in a while. The process of creating Christian's comb-over was intensive and took two days. The problem with creating a comb-over is that there really isn't any model. In today's world, the only comb-over is Donald Trump. We couldn't replicate his haircut, because David O. Russell said it wasn't long enough. The other problem is that Christian has a ton of great, thick hair. He's the best thing since sliced bread.
In the script, David wrote specifically that he wanted the comb-over to open up. David wanted it to look high, but thinned out on the edges. David kept saying "Higher, higher," but I said, "There's no hair to make it higher." In the end, I stuffed it and Christian made that part of his character. I also couldn't thin it on the edges no matter how I did it. He's go so much hair that it wouldn't graduate down. I ended up having to build a little hairpiece on the edge. It was a really complicated haircut. In the end, he and I did it together, fully did it.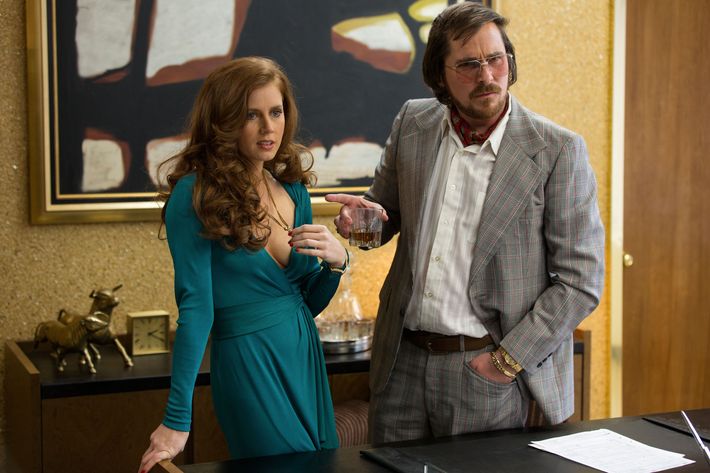 David also rewrote the opening so that it showed Christian doing his hair, so it's actually Christian doing his hair on camera. People can't watch this movie and think, That would never happen, because it did. It wasn't that hard to teach Christian. Actors are really great at taking direction. I showed him how to do it twice. It took ten minutes. I prepped it for him and then we did it one more time. It took seven minutes that time. And then, he just did it on camera.
I don't know if the comb-over really signifies anything. People think that men with comb-overs aren't really into their face. But in reality, people with comb-overs are really into their hair. If they weren't, they would have shaved it off. All the bad guys you see now, in 1976, would have had comb-overs.
After the movie, Christian said, "My daughter might want to cut off my hair." His daughter is 7 or so. I said, "Okay, I'll show her how to do it." Basically, Christian had to shave his head. There was this one part of the scalp where there was no hair. It was just this big section, we called it "the island." I showed her how to cut his hair into chunks, using just clippers. It's something anyone could do. She clippered as I was sitting there, and she shaved off all his hair. I'm sure Christian's wife and kids couldn't wait for that hairdo to go.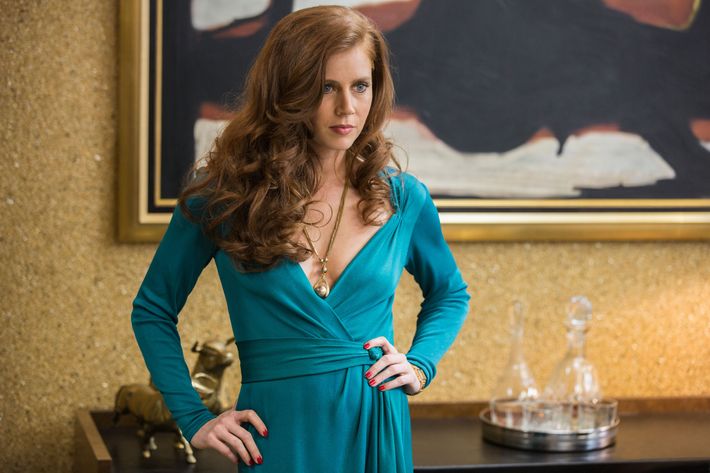 When it came to Amy, she was always changing but luckily, she has the world's best hair. It's the perfect texture.  It has nothing to do with the condition, although it's good, but it's the type of hair. It can hold a set. It can go straight.
I was lucky that Christian and Amy started out with really good hair. I don't always. I did get special shampoos and conditioners, which is something I usually suggest. There's this one shampoo and conditioner that's become my favorite. It is the Shu Uemura Shimmer Illuminating line.  With actors, you have to be super careful. They go from movie to movie, their hair has no time to rest. I need something that's going to condition the hair and will allow me not to make it so silky that it has no body left in the hair.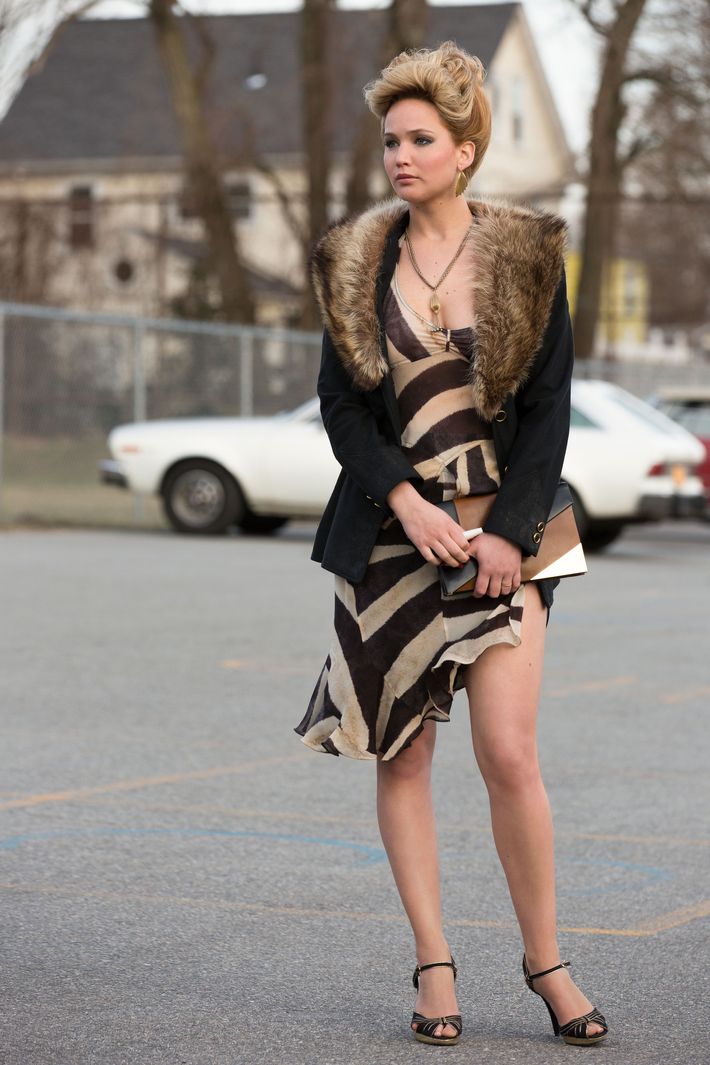 I also designed Jennifer's wig. She's an amazing, terrific girl. She was going back to Hunger Games and her hair was dark brown, so we made her a wig. Michelle Johnson executed the style. David wanted all of Jennifer's hair forward, he thought she looked good like that. Jennifer said, "David has always loved my hair in my face." It's just something he likes. The hairstyle is a modified seventies Gibson, pitched forward.
The hairstyle is so high because that's the fashion of the time. It's pretty accurate. Her character is from Long Island, and she was a housewife who might be in the house, doing her own nails and hair. In the eighties, I lived in New York City and I had a roommate. At the time, the working girls and secretaries who lived in Brooklyn, their hair was so much higher. The sophisticated girls on TV, their hair wasn't as high. Back then, everyone knew how to do their hair. Now, no one does.