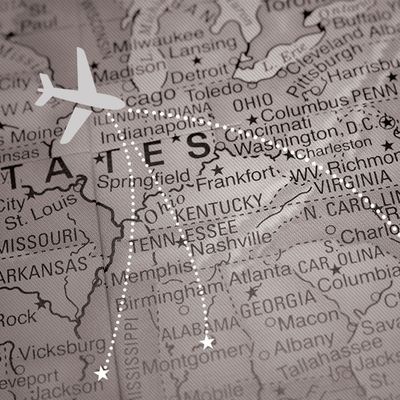 If 2012 was the year of the campaign-ending rape gaffe — remember Todd Akin? — 2013 was the year of the TRAP Law. That stands for Targeted Regulation of Abortion Providers: These deceptively mundane laws govern things like clinic-hallway widths and mandatory waiting periods in order to make it more difficult to provide or receive an abortion. Wendy Davis's cinematic filibuster against abortion restrictions in Texas brought national attention to this quieter, but much more insidious, assault on reproductive rights.
More than a dozen states passed TRAP laws in 2013. The year's most popular models included laws requiring providers to have admitting privileges at a nearby hospital in case of complications (gynecologists say complications are too rare and hospital doctors are too well-equipped to necessitate admitting privileges), laws banning abortions as early as six weeks (before some women even know they're pregnant, the President observed), and laws abolishing the safe, effective, telemedical abortions that seemed like the future of abortion access as recently as 2011. Since then, at least 79 abortion clinics have closed, according to Bloomberg Businessweek, many in response to these new regulations, which either make it illegal or too expensive to operate.
Women who are denied abortions because of gestational age limits are more than three times as likely to end up below the poverty line. Those who live in states with mandatory waiting periods — last season's hottest TRAP law — are more than twice as likely to travel more than 25 miles to get an abortion, adding travel expenses and time off from work to an already expensive equation.
What about the doctors providing abortions? The clinics that remain open increasingly rely on itinerant providers, a.k.a. fly-ins or circuit providers — so long as admitting-privileges TRAP laws are held up in appeal. These out-of-state doctors brave long commutes (sometimes flying anonymously) and hostile locals (disguises required) to make sure women don't lose their right to choose on a technicality. Below, seven abortion providers whose unusual routes to work have made the news since TRAP laws began to gain traction, around 2010.
Dr. Willie Parker
Distance: 750 miles
A Chicago doctor and native of the Deep South, Dr. Parker travels for a few days each month to clinics in Montgomery, Alabama, and Jackson, Mississippi, the state's sole clinic. "Being a person of color and coming from the ranks of poverty it became important to me to make sure that people from those key demographics have access to legal abortion, that can save their lives, when they need it," he said in a recent interview.
Dr. Susan Wicklund
Distance: 1,000 miles
Before opening her own clinic in Montana, Dr. Susan Wicklund wore a wig, gaudy makeup, bright polyester pants, a beaded jacket, and a .38-caliber revolver for a weekly five-city Midwest circuit (St. Paul, Milwaukee, Appleton, Duluth, Fargo), covering 200 miles a day, routinely through protesters and death threats. Although she eventually gave up the disguise, Wicklund, who retired this year, told The New Yorker: "Across the country there are many more clinics that have closed and fewer physicians providing abortions. Every year, there are more and more roadblocks for patients."
Dr. Clara Taylor
Distance: At least 1,000 miles
When the Santa Fe Reporter profiled Dr. Clara Taylor (not her real name) in 2011, she was working at clinics in two states (neither near the East Coast city she calls home), to which she traveled wearing a Three Stooges mask (Larry) in order to avoid having her photograph plastered on the website of Operation Rescue, the anti-abortion group linked to the murder of George Tiller. (It didn't work.)
Dr. Carol Ball
Distance: 250 miles
Minneapolis ob-gyn Dr. Carol Ball is one of a handful of Minnesota doctors who commutes each month to the lone abortion clinic in South Dakota (North Dakota only has one, too), and is met at the airport by a security guard.
Dr. Cheryl Chastine
Distance: 700 miles
When Chicago family physician Cheryl Chastine is driven from the airport to Wichita's South Wind Women's Center — not far from where late-term abortion provider George Tiller was murdered by a pro-life activist — she takes different cars, never takes the same route twice, and ducks down to the floor, according to a summer Ms. Magazine profile.
Rebecca Gomperts
Distance: 1,400 miles, as the crow flies
For a glimpse of what abortion providers' commutes in countries where abortion is entirely illegal, look no further than Dutch physician and activist Rebecca Gomperts. Every few years, Gomperts's Women on Waves yacht travels to a different country where abortion is illegal to provide abortions in international water, including, most recently, Morocco. Due to the accompanying controversy, more often, she's only able to spread information about how to do a self-abortion using a common ulcer medication. "It's really cheap, but the problem is that women don't know about it," she told the Daily Beast.