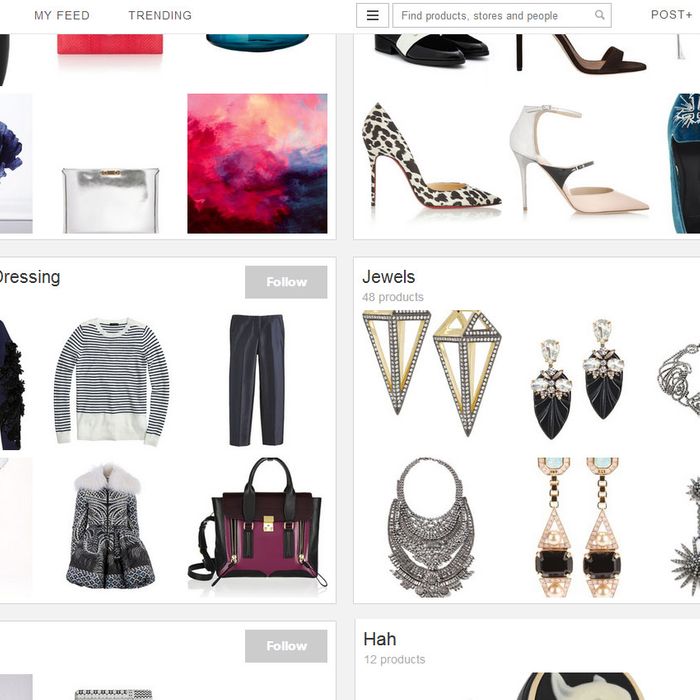 Maybe you were raised in a household that just relied on gut intuition instead of the more rational practice of exchanging wish lists each holiday season. If so, you probably have a drawer full of odd sweaters to show for it. But as the countdown gets down to the wire, and as we frantically begin to cross off our shopping lists, wouldn't it be nice to know exactly what's wanted or needed?
Wish lists seem like the perfect solution to guide any well-meaning but still clueless significant others, parents, and extended kin. Luckily, with the advent of Wanelo, the thought of thrusting a list of demands is not at all gauche; with its transparent, socially driven platform and tiny bookmarklet, it's easy to organize everything you want, and it's fun to stalk discover what others are pining for, too.
Some of the wish lists that we've enjoyed stalking include Leandra Medine's, of Man-Repelling fame, actress Jamie Chung's, and street-style star Natalie Joos's, to name a few.
And if you're new to wish listing, here' s a primer:
• Items of epic glory with astronomical price tags are cool and encouraged. Even if others can't afford to gift you that Stradivarius violin, it will give them an idea of what you're into, and serve as inspiration for that ideal gift.
• With that said, make sure that your wish list is fully fleshed with gifts at every price point so that everyone, even the siblings who eke out a paycheck from an after-school job, have something to choose from.
• Don't be afraid to add funny, humorous things to your list. At least, make it fun for people to go through. As are all things in this era, your wish list is an extension of your personality.
• Encourage everyone to make wish lists! So you're not the only one.
• Maybe make the lingerie wish list for your significant other a separate collection.
And if you need inspiration of what to save to your Wanelo wish list, look no further than our epic holiday shop, Shop the Cut!