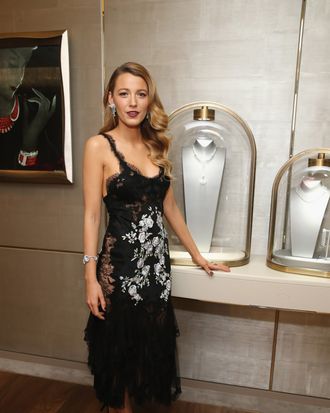 Photo: Neilson Barnard/Getty Images
Blake Lively walks into the room, chewing. "Hi, I'm Blake." With all the talks of her rumored new lifestyle site, it's appropriate that she's eating, looking, and smelling beautiful, all at the same time. It's the very picture of having it all, the Blake Lively way.
Earlier reports claimed that the site was "lifestyle"-focused, but she tells the Cut those rumors were largely inaccurate. "No," Blake confirmed, "It will be a site, but not necessarily for lifestyle." Read on to learn about the new site, how she smells, her favorite YouTube animal videos, and if she would ever get a pixie cut.
What was your first scent memory?
I can't remember if it was food, because my mom was an amazing cook. But fragrance is one of the most powerful things. Even though her scent has changed over the years, it's neat to be able to remember a certain time and place and have fragrance capture that.
Do you use scents to get into character?
Hm, I never thought about that. I think I do the other version. My scent is who I am, it's very distinct. When I'm playing a character, I don't wear perfume. I don't want to feel like me, I want to disappear into it. I think that's a big tell, so I don't pick scents for characters.
But I also play a lot of dark characters, so it would make me dislike a lot of scents. Maybe one day, when I play a lovely, enjoyable character who isn't being tortured.
What do you think you smell like day-to-day?
I think I smell like … cookies. [Laughs.]
What kind of cookies?
Chocolate chip, with a lot of pecans. No, but I really do wear Gucci Premiere every day. I love that it has feminine and masculine [notes]. I'm very particular with fragrance, and used to wear a different fragrance in the summer and winter, or for different events. But because Gucci Premiere is so nicely balanced, I don't have to do that anymore.
When you switch up fragrances, what's missing is that power. That potion power. That special power. Like when I smell my mom. Or when I smell my sister … it's like, the most … it's a superpower! Or a love potion. I didn't have that signature fragrance because I was changing the fragrance depending upon the time and place. But having a fragrance that feels appropriate in all those settings, that's a new and cool thing to have.
Right, with a dry down of cookie.
Yeah. [Laughs.] Leather and wood and chocolate chip cookies.
What scent would you associate with your first date?
Hmm. I don't know if I have ever been on a date. Maybe the Cheesecake Factory? Yeah … that would work. [Laughs.]
Was your first date there?
I guess? I don't know. My first date must have been my first boyfriend, when I was a senior in high school. And you don't really go on dates then. You know what I mean? I've always dated people I've been friends with for a long time. So maybe Cheesecake Factory. That's where I would go now.
Unfortunately, you'd have to go to New Jersey, then.
I would go to New Jersey for Cheesecake Factory and Grand Lux.
What's Grand Lux?
You don't know what Grand Lux is? It's owned by Cheesecake Factory. It's not fancy in price or menu. There's just a lot more gold leafing. Cheesecake Factory is great. It should have Michelin stars.
Your hair is envied by a lot of people. What do you do to take care of your hair?
Something my mom does that is kind of cool: She puts coconut oil on the ends of her hair. When you shampoo your hair, you're trying to get the oil out of your roots, but you really want the rest of your hair to maintain its moisture. When you put coconut oil on the ends, the shampoo gets oil out of the roots, but also protects the ends.
A lot of other celebrities have been getting pixie cuts recently. Would you?
Hmm, I don't know. For me, my hair is like a shield. I'm actually a pretty shy person by nature. With long hair, you can put your hair down and cover your face. I think a pixie cut is so cute. I just think that everyone that has one is the most courageous person. It's so daring to do that! I get geeked out by people when they do that. They're awesome. Would I do it? Maybe.
But it's totally ballsy. You see someone do that and you think, I want to be friends with them. They're really brave.
You're known for doing your own styling for events. What is your approach to beauty?
I like doing my own makeup and hair for events. I think it's fun.
Do you ever watch YouTube videos for makeup tips?
No. I actually didn't know you could do that. I watch YouTube for lots of dog videos. Have you seen the hound and the orangutan? I want an orangutan so bad. It's so cute. [Laughs.]
It is so cute!
I didn't know they did [makeup] on YouTube. But I'm luckily through doing photo shoots, I get to work with so many amazing hair and makeup artists. That's my version of YouTube. How do you do Veronica Lake hair? And like, today, with Serge Normant, I get to ask him, How do you do that? What did you do?
Maybe you should make a YouTube tutorial video about beauty with an orangutan.
Or with Jessica the hippo? She's so sweet. [Laughs.]
I like the bulldog puppy videos.
Like the one where they're trying to roll over? [Laughs.]
A lot of people are excited to hear about your upcoming lifestyle site.

I don't know if it's a lifestyle site. I was very vague about it. And because of that, everyone was filling in the blanks about what other sites it could be like. It's not accurate. I'm creating a brand that I felt the need for. I was on my show [Gossip Girl] for so long that I really wanted to break from acting, because it lost its excitement for me in a way, because it was such a job.
I never lost my appreciation for [acting], though. I just felt like I didn't have as much to offer because I got used to it. I wanted to explore other passions. At first, I didn't know what I wanted to do. The company came from something separate when I had that free time. It's a space I wanted that I couldn't find anywhere else. I'm still being very vague, intentionally. But I'm really, really excited. By the time it launches, we will have developed it for two years. So it's a lot of time, energy, efforts, resources, working with amazing people.
So it's not a lifestyle site?
No. Yes, it will be a site. But not necessarily lifestyle.
But I imagine it will include food.
Yes. You cannot be around me without talking about food. It's a little bit of everything.
And it will launch this upcoming year?
Mhmm. Yes. This upcoming year.
What do you think of other lifestyle sites like Goop?
Oh my gosh, I'm such a huge fan. I think Goop is amazing. Pinterest I'm obsessed with. Etsy is not a lifestyle site, but it's pretty amazing what they've done. But I think it's also neat, all the blogs. They don't need a huge company behind them. You can just be a fan of fashion, art, or a fan of all things. There are so many Tumblrs I like to follow.
What kind of Tumblrs?
Motorcycle Tumblrs. Everything. I have a Pinterest account. I don't have any friends on it. It's not under my name. It's not like, top secret. It's just a way that I can store the boards.
So people have no idea that Blake Lively could be re-pinning their pins.
Yeah. Sometimes, it's weird. If I'm looking [at] hair things, I see, oh, that's me! That's so weird! But I do re-pin pictures of Ryan.  [Laughs.]
I don't go on a lot of food sites. I haven't found a food site I really connect with. I like to shop for food, at places like Eataly, Chelsea Market, in NYC. I love different food magazines, from Bon Appétit to Martha Stewart Living. Martha Stewart Living is the only magazine I've ever purchased my whole life.
Have you made anything from the Goop cookbooks?
No, I haven't. I don't really cook from a cookbook. But I have her cookbooks. I have so many: Thomas Keller's whole collection, Joel Rubochon, and Nigella Lawson. To me, they're more like coffee-table books. I think her cookbook is beautiful. I geek out with Thomas Keller. He's my number one. He's like my superhero. Chefs are like my rock stars. I could meet the biggest movie star and feel so honored, but if I see a chef, I just want to hide under a table.
There's also this third party, I just discovered her a few days ago. It was James Beard, Julia Child, and one other woman, and they all started a culinary school together. You know about James Beard and Julia Child, but this is the third missing part. It's one of the most beautiful cookbooks I've ever seen. I literally saw it two days ago.
What kind of food plans do you have for the holidays?
There's a lot of baking in the house. What's nice about the holidays is my mom cooks a lot. I really want to start learning her recipes, because it's something you take for granted your whole life, that your mom does that, and then you forget to learn it. Like my granny's biscuits. My brother learned to make them … and then one day, she wasn't there any more. But she is there — every time we make our biscuits, she's there.
We mostly survive off cookies. Double chocolate, chocolate cream cheese, chocolate pecan, peanut-butter chocolate, peanut-butter cookies, oatmeal, sugar cookies. We make just a huge vat of dough, of about eight different kinds, and then we are done in a few days and have to make another batch.
Is this a Lively family tradition?
Well, eating…
Where are your favorite places to eat in the city?
Pearl Oyster Bar, it's too good. I can't stop going there. Scallinatella, an Italian place uptown that's downstairs – someone has to refer you what items to get on the menu. It's amazing. I get stuck in my rut. Patsy's, but the one on 118th? That oven, it's the original. And when you go in and see New York firefighters and cops, a line of 30 of them every time? It's the best pizza in the city.
This interview has been condensed and edited.