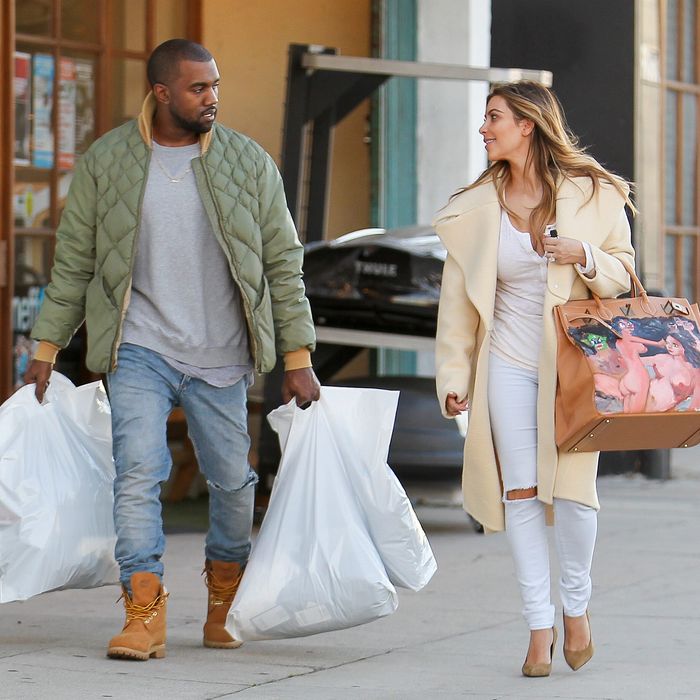 Photo: Splash News/Corbis
What do you give the Kardashian that has everything? In a stroke of creativity, true love, or to assert his art-world cred, Kanye gifted his beloved Kim a $40,000 Hermès Birkin bag, customized with a painting by contemporary artist George Condo (no guess on what he paid Condo). On paper, this sounds nice, yes? A very expensive bag emblazoned with a one-of-a-kind, hand-painted work of art by a world-class artist. In reality, it is possibly the ugliest bag in the history of civilization.
Yet, Kim loves Birkins so much that she employs one as a diaper bag. Kim also loves all the things that Kanye tells her to love and this gift combines many of Yeezy's most favorite things: ostentatious trappings of extreme wealth (it is an enormous beige Birkin) with thought-provoking and haunting works of art from respected and trusted collaborators (Condo created the covers for My Beautiful Dark Twisted Fantasy), and a pretty Kim to tote it around (Kim is carrying the bag).
One could also posit that Yeezy perfectly understands both art and fashion and this is just such a brilliant crossing of high art and high fashion that we can't comprehend the genius of Yeezy and mistake it for ugly, when, really, it's beautiful. And, that, friends, is the magic and mystery of Kanye that only Kim can understand. And why this is really the perfect, most loving gift Kanye could bequeath.
Did Kim like the gift? Well, she responded with her truest expression of love: immediately posting a photo of the bag to Instagram with the tender, loving hashtags "#HandPaintedGeorgeCondo #HermesBirkin #OneofOne #ChristmasPresentFromYeezy." 
It's safe to say yes — or at least that she was kind of confused by the present and didn't know what else to say, so is letting Instagram figure it out for her.