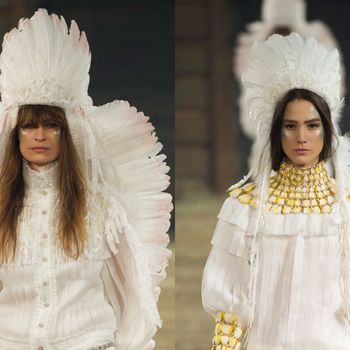 Photo: Cooper Neill/Getty Images
We've been here too many times before. It happened last year, when Karlie Kloss wore a Native American headdress onstage at the Victoria's Secret Fashion Show (and later apologized); to H&M last summer, when it pulled $15 faux-feather headdresses off its shelves following complaints; and when Urban Outfitters's tone-deaf Navajo underwear resulted in the brand being sued by the Navajo Nation in 2011. But what happens when the cultural appropriation in question isn't being perpetrated by a mall brand — what if fashion's resident high priest is the one behind the feather headdresses?
On Monday night, at his Métier d'Arts show in Dallas, Karl Lagerfeld showed a 94-piece pre-fall 2014 collection inspired, as he put it, by "the idea of Old Texas, even before the Civil War," as an homage to the warm welcome Coco Chanel received when she visited the city in 1957. The show brought 900 people into an old barn with straw floors, an old-timey drive-through, and (duh) an after-party with a mechanical bull. Every single Texan trope, made "chic" by Karl Lagerfeld and his fashion fairy dust.
The show began with tweed skirt-suits paired with boots, fringed accessories, beaded embellishments, and printed blanket skirts. Lagerfeld's little godson even modeled jeans, a cowboy hat, and (great messaging here) a miniature diamond-encrusted gun.
Models came down the runway with Native American—inspired feathers sticking out of their hair – imprinted with the double Cs – and gold cheekbone makeup that appeared to be a strange interpretation of Native American face paint. Hmm. Then, for the finale, Lagerfeld sent out enormous white feathered headdresses, one of which extended to the model's ankles. Oof. "You knew he was going to go there," tweeted InStyle's new fashion news director, Eric Wilson.
Afterwards, the pitch-perfect Dallas Buyer's Club in the front row abounded with praise. "It's going to make a fortune for Chanel because there are so many people who have ranches and country homes," Texan socialite Becca Cason Thrash told WWD. "I wanted like 99 percent of it."
Others were not quite so excited to wear the designs at their country estates: Elle.com's Faran Krentcil said the headdresses "left a sour taste for some." Wrote Fashionista's Alyssa Vingan: "We're honestly shocked that those headdresses were given the thumbs up to walk down the runway." But more people just expressed a general: Seriously? Not again. 
Criticism was lenient relative to the ire sparked by Kloss at Victoria's Secret. "Chanel put a model in full Native American headdress for its Dallas finale look and no one will say a word about it…," tweeted one user. It's hard not to wonder: Have people let Karl Lagerfeld off the hook for his Native American misappropriations because he's Karl Lagerfeld? Because his designs are somehow deemed more tasteful because they're high fashion? How is it possible that designers haven't yet gotten the memo that this isn't okay? Between blackface and bindi fiascos, it seems like there's a new moment like this every few months. So let's all be loud and clear here: It's never cute to use Native American headgear in your collections. Even if you're Karl Lagerfeld.